Bosnia Reviewing Citizenship Of Former Fighters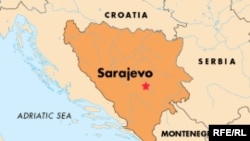 (RFE/RL) January 11, 2007 -- Bosnia-Herzegovina has revoked the citizenship of 330 people, including so-called Islamic holy warriors who fought in the country's 1992-95 war.
The head of a commission tasked with reviewing citizenship, Vjekoslav Vukovic, said that among those who lost their citizenship were people who obtained the citizenship "illegally."
The majority of them were from Africa, the Middle East, and Asia.
There are some 500 cases left for revision.
(AFP)

2006 IN REVIEW: A photo gallery of key news events of 2006 from across RFE/RL's broadcast region. ...more