U.S. Soldier Gets 18-Year Sentence For Iraqi Murders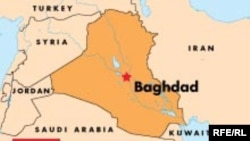 (RFE/RL) January 12, 2007 -- A U.S. soldier has been sentenced to 18 years in prison after pleading guilty to murdering three Iraqi detainees.
Specialist William Hunsaker, who was sentenced on January 11 at Fort Campbell in the state of Kentucky, is among four soldiers who have been charged in connection with the killings, which occurred after a May 9, 2006, raid targeting a suspected Al-Qaeda base near Samarra.
One of the three other soldiers earlier this week received nine months in prison after pleading guilty to aggravated assault, while the two others still face trial.
(AFP, AP)