Gianni Magazzeni, the UN's top human rights official in Iraq, said more than 36,000 Iraqi civilians were wounded during the same period.
"The civilian population remains the main victim of the prevailing security situation," Magazzeni told journalists. "Law enforcement agencies do not provide effective protection to the population of Iraq and, increasingly, miliitias and criminal gangs act in collusion with or have infiltrated the security forces."
Speaking at a news conference, Magazzeni said that in November and December 2006, nearly 6,400 civilians were killed in the country, some 4,700 of them in Baghdad.
"Compared to the number killed in September and October," he said, "there has been a slight reduction. It is evident, however, that violence has not been contained but has continued to claim a very high number of innocent victims."
In London, British Prime Minister Tony Blair called the figures "tragic" -- but blamed terrorists for the loss of Iraqi lives:
"But, of course, it is tragic when there [are] innocent civilians losing their lives in Iraq," Blair said. "You know, hundreds of thousands of them lost their lives, innocent people, under Saddam. Now, thousands of them are losing their lives, but they are losing their lives because terrorists and because internal extremists, linking up with external extremists, are killing them. It is not British and American soldiers that are killing innocent people. We are trying to protect innocent people."
Another Day Of Violence
Reports say at least 92 Iraqis were killed and more than 200 wounded in violent attacks across Iraq within the past 24 hours.
At least 60 students and staff were killed outside Baghdad's Mustansiriyah University. Another 110 people were wounded in the attack.
Meanwhile, the Iraqi Defense Ministry says security forces arrested 92 militants and seized caches of weapons in a raid south of Baghdad.
(compiled from agency reports)
Sectarian Iraq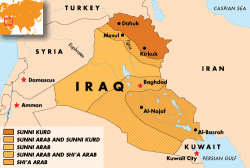 Click to enlarge the image.
SUNNI, SHI'A: Iraq is riven along sectarian lines, faults that frequently produce violent clashes and are a constant source of tension. Sectarian concerns drive much of Iraqi politics and are the main threat to the country's fragile security environment.


THE COMPLETE PICTURE: Click on the image to view RFE/RL's complete coverage of events in Iraq and that country's ongoing transition.