Bush Says Iraqi Government Needs 'Some Maturation'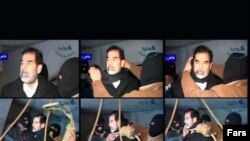 Images of Hussein's December 30 execution (Fars) January 17, 2007 -- U.S. President George W. Bush has criticized the circumstances of the execution of Saddam Hussein on December 30, as well as the January 15 hangings of two former top Iraqi officials.
Bush, speaking in an interview with the Public Broadcasting Service on January 16, said Hussein's execution "looked like it was kind of a revenge killing," adding that the Iraqi government "has still got some maturation to do."
"It's a confusing message," Bush said. "It basically says to people, look, you conducted a trial and gave Saddam justice that he didn't give to others. But then, when it came time to execute him, it looked like it was kind of a revenge killing. And it sent a mixed signal to the American people and the people around the world. And it just goes to show that this is a government that has still got some maturation to do."
A cell-phone video of Hussein's hanging showed the deposed Iraqi leader being taunted as he stood on the gallows with a noose around his neck. An official video of the execution of Hussein's half-brother, former intelligence chief Barzan Ibrahim al-Tikriti, showed that the hangman's noose decapitated him.
Both hangings provoked criticism around the world.
(AP)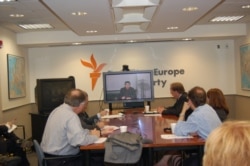 BEYOND THE HEADLINES. RFE/RL regularly hosts briefings and discussions with leading experts on our broadcast region. In 2006, some of the crucials topics were gas wars, elections in Belarus and Ukraine, Iran's nuclear program, and unrest in Central Asia....(more)
SUBSCRIBE
To receive RFE/RL briefing invitations and reports by electronic mail, send a message to
dc-response@rferl.org
with "Subscribe" in the subject line.