Armenia: Junior Coalition Partner Warns Against Election Fraud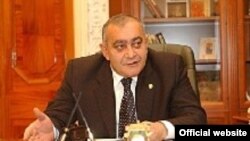 By Ruzanna Khachatrian and Liz Fuller http://gdb.rferl.org/45D4F093-DFA2-4886-AF3E-526254FBD4BD_w203.jpg Armenian Prime Minister Andranik Markarian (official website) January 18, 2007 -- The Armenian Revolutionary Federation-Dashnaktsutiun (HHD), which for the past 8 1/2 years has been a junior partner in two successive coalition governments headed by Prime Minister Andranik Markarian, has threatened nonparticipation in the government to be formed after May parliamentary elections.
Senior HHD member Armen Rustamian told RFE/RL's Armenian Service recently that it will not seek representation if the ballot falls short of democratic standards, or if the HHD fails to win a "sufficient" number of parliamentary mandates.

"If it becomes clear that the election results are not recognized by international bodies, Dashnaktsutiun will never be part of a government formed by such a National Assembly," said Rustamian, echoing a similar warning he issued last September.

Rustamian also repeated on January 12 his earlier warning that the HHD would "become extremely resolute and move into opposition" if the 2007 elections are perceived as marred by serious fraud. He hinted that Dashnaktsutiun might stage street protests in the event that the vote is seen as less than fair and democratic.

"If you move into opposition, you draw up a corresponding strategy," he said. "In that case, we would use all political means to influence processes with an opposition stance."

Election Criticism
The HHD joined other opposition parties in challenging the official outcome of the May 2003 parliamentary elections, but opted to remain in government in order not to jeopardize "political stability."

A repeat in May of the intimidation, widespread vote-buying, and manipulation of election returns that have characterized successive national ballots since 1995 would negatively impact the Armenian leadership's efforts to build closer ties with the West. Specifically, it could jeopardize the disbursement of funds under the U.S. Millennium Challenge program, and Armenia's participation in the EU's European Neighborhood Policy.

Armenian Foreign Minister Vartan Oskanian alluded to those possible repercussions in an interview published last fall in the opposition daily "Haykakan zhamanak." "Everyone must realize that we simply have no more room for holding bad elections, because this time the damage to our people would be not only moral, but material," the paper quoted him on October 19 as saying. President Robert Kocharian for his part assured Armenians in his televized New Year's address to the nation that "I am sure [the elections] will be up to the mark. Free and fair elections should be a priority" for Armenia.

Vote Breakdown
Yet even if this May's vote is perceived as meeting international standards for a free and fair election, the HHD's continued participation in government is not a foregone conclusion, but will be contingent on the overall division of votes.

At present, the HHD has four ministerial portfolios, none of them relating to the keys spheres of defense, security, and foreign policy. It also holds 11 seats in the 131-strong National Assembly, and Rustamian indicated on January 12 that it hopes to win at least that number of seats in the new parliament.

"We will not remain part of the government if the number of our parliamentary deputies does not enable us to influence the adoption of government decisions," he said. "For example, if two political forces are able to form a coalition without us, we will not join them just to increase their government's number of parliamentary seats. That is, we are not going to become the fifth wheel of any government."

Those comments echo the argument made in December 2006 by another senior HHD official, Hrant Markarian. Speaking in the northern town of Giumri at a celebration to mark the 116th anniversary of the party's foundation, Markarian stressed that a party that won just 11 percent of the vote should not be held responsible for all policies implemented by the coalition, yerkir.am reported on December 15.

Markarian said the HHD was "successful in national issues because we had the president's support. We were unsuccessful in democratic and social issues because we were alone. We were not the [whole] government, we were [only] a part of it.... It was not the government of the HHD."

Implicitly distancing the HHD still further from its coalition partners, Markarian called for "an organized and systematic fight" against such "terrible phenomena" as corruption and the shadow economy, and for economic policies that would address more effectively such social problems as poverty by substantially increasing pensions and the minimum wage.

SUBSCRIBE For weekly news and in-depth analysis on Armenia, Azerbaijan, Georgia, and Russia's North Caucasus by e-mail,
subscribe to "RFE/RL Caucasus Report."