Orthodox Christians Celebrate Epiphany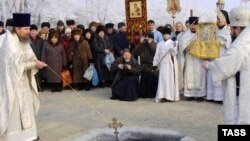 Epiphany celebrations in the Russian city of Abakan today (ITAR-TASS) January 19, 2006 -- Orthodox Christians in Russia, Ukraine, and elsewhere today participated in the annual Orthodox tradition of plunging through ice holes and bathing in icy waters to mark Epiphany.
However, the region is currently seeing its warmest winter in many years, and many participants are missing the key ingredients in this year's celebration: cold, ice, and snow.
Many believers have bemoaned just jumping into cold, not freezing, water.
(Interfax, ITAR-TASS, Reuters)