Ukrainian Foreign Ministry Faces Funding Cutoff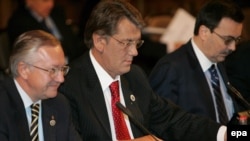 Tarasyuk (left), with Yushchenko (center) in Helsinki in October Ukraine (epa) January 19, 2007 -- Ukrainian Foreign Minister Borys Tarasyuk has accused the government of cutting off funds to his ministry, leaving Ukraine unable to pay its diplomats or its dues to international organizations.
Parliament in December dismissed Tarasyuk, a presidential appointee, and Prime Minister Viktor Yanukovych asked that he be blocked from acting as foreign minister.
Tarasyuk says his dismissal was illegal and President Viktor Yushchenko has kept him in his post.
Meanwhile, Yushchenko today vetoed for a second time a bill that would reduce his powers.
Yushchenko says the bill, which outlined the powers of the cabinet, violates the constitution. He also says it goes against all agreements between his team, parliament, and the government.
Last week parliament overrode his initial veto of the measure.
Under the constitution, Yushchenko was obliged to sign the law after parliament overturned his veto.
But he says deputies have slightly changed the wording of the bill from the text approved last year, which gave the president the right to send it back to parliament again.
(compiled from agency reports)