Putin, for his part, said after meeting with Merkel in the Black Sea resort of Sochi that Russia is ready for an open dialogue on energy with Europe based on all sides' interests. The Russian leader also said Moscow wants to establish with its partners clear rules on energy exports.
Putin also said a solution on the final status of Serbia's Kosovo province must be accepted both to Serbia and to Kosovo.
Weighty Agenda
No major breakthroughs were anticipated, but several pressing questions were expected to be discussed as Merkel met with Putin for the first time under Germany's EU presidency
Highest on the agenda was EU concerns about the reliability of Russian energy supplies after a recent oil transit dispute between Russia and Belarus briefly disrupted supplies to EU countries.
The talks were also expected to deal with a Russian ban on Polish meat imports and the situation in the Middle East.
Merkel has not developed a close relationship with Putin, as her predecessor Gerhard Schroeder did. However, there were some lighthearted moments during the visit. At one point Putin's black Labrador, Koni, entered the meeting room and sat at Merkel's feet.
As Putin pulled his dog away from the German chancellor, he quipped: "[Koni] won't do anything bad, she likes journalists," Interfax reported. The two leaders then engaged in a short discussion about the dog's age.
However, the realities on the ground have not changed. The EU and Germany are strongly dependent on Russian energy.
Germany was irritated earlier this month by a lack of warning from Moscow when Russia stopped pumping oil to Europe through a Belarus pipeline, as part of an energy row with Minsk.
Merkel described Moscow's action as "unacceptable" and said it "destroys trust" in a crucial EU energy supplier.
Damage Control
Fyodor Lukyanov, the editor in chief of the journal "Russia In Global Affairs," told RFE/RL last week that Putin will try hard to improve his country's reputation as a key energy supplier, following the Belarus dispute.
"I think that this will be actively discussed since the European Union is deeply worried and Russia is visibly upset by the impression it has produced," Lukyanov said. "Putin will probably try to appease Merkel and convince her that this [dispute] was a practical difficulty that has been overcome."
Recently, Merkel said a partnership with Russia is in the EU's "strategic interest" and must be developed "as broadly as possible." Merkel noted energy relations must be central to such a partnership.
However, unlike Schroeder, Merkel sought to balance her message, noting that good relations with Russia cannot be achieved at the expense of human rights and democracy.
"We say clearly and plainly: we need dependable ties with Russia -- it is the only way trust can grow," Merkel said. "And at the same time we must not, of course, ignore issues such as the media, civil society, or Russia's conflicts with its neighbors."
Middle East Peace
Besides energy, Merkel is believed to be keen to win the Russian leader's support on Middle East peace efforts.
Russia and Germany are vital to the revival of the Middle East Quartet, comprising the UN, the EU, Russia, and the United States. The Quartet is expected to resume meeting in Washington at the start of February.
Iran's nuclear ambitions, the future of Kosovo and a stalled EU-Russian partnership agreement are other issues believed to be high on the agenda.
The meeting between the two leaders was to be short, with Merkel arriving at Putin's summer residence in the late afternoon and then flying back to Berlin before nightfall.
Russia And The West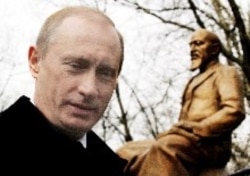 (epa)
COOPERATION, CONFLICT, CONFRONTATION: Relations between Russia and the West are notoriously volatile. "To see the kind of relationship that presidents Bush and Putin have developed and to see Russia firmly anchored in the West, that's really a dream of 300 years, not just of the post-Cold War era," then-national security adviser Condoleezza Rice said in May 2002.
But observers have increasingly called into question the extent of the shared values between Russia and the West, particularly on issues relating to the transformations going on in other former Soviet countries.
RELATED ARTICLES
Silent Diplomacy Versus Public Criticism
Analysts Say New Arms Race Unlikely
Moscow 'Unhappy' With Outcome Of CFE Conference
Moscow And Washington Spar Over WTO Membership
Russia Gears Up To Improve Its Image Abroad
Experts Urge U.S. To Rethink Relations With Russia
U.S. Official Says Russian NGO Law Part Of Antidemocratic Trend
ARCHIVE
To view an archive of RFE/RL's coverage of Russia, click here; to view an archive of RFE/RL's coverage of U.S.-Russian relations, click here.

SUBSCRIBE
For news and analysis on Russia by e-mail, subscribe to "RFE/RL Russia Report."