Russian Envoy To Georgia Due To Resume Work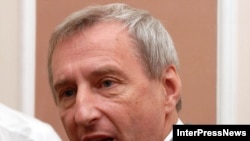 Vyacheslav Kovalenko (file photo) (InterPressNews) January 22, 2006 (RFE/RL) -- Russia's ambassador to Georgia is due today to return to his post, nearly four months after leaving Tbilisi amid an intensifying row between the two countries, RFE/RL's Russian Service reported.
Vyacheslav Kovalenko halted his diplomatic duties after Tbilisi's arrest in late September of four Russian military intelligence officers accused of spying on pro-Western Georgia.
The arrests followed months of deteriorating ties during which Moscow blocked the sale of Georgian wine and mineral water in Russia.
The spy accusations prompted Russia to intensify the dispute, blocking postal and financial communications with Georgia and forcing many ethnic Georgians to leave Russia.
The resumption of Kovalenko's diplomatic duties is seen as a first step toward normalizing ties between Moscow and Tbilisi.