Lebanese Opposition Ends Street Blockades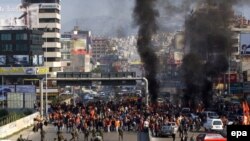 Protests in Beirut on January 23 (epa) January 24, 2007 -- Lebanese opposition supporters have been lifting street blockades after a nationwide day of protest led by the pro-Syrian Hizballah movement.
Lebanese Prime Minister Fouad Siniora vowed to stand firm against what he called "intimidation."
Police said three people were killed in Tripoli and two central towns during clashes between government and opposition supporters.
More than 130 were wounded. The United States said it was "deeply concerned" about events in Lebanon.
(compiled from press reports)