At a joint news conference after the talks, Putin said there were no unresolved problems in bilateral relations, while Kocharian said he hoped cooperation would expand further.
Putin also told Kocharian that Russian investment in Armenia, which currently stands at some $800 million, would soon double.
Putin aide Sergei Prikhodko said earlier that Russia and Armenia had found new ways of cooperation in nuclear energy, including Russia's participation in the exploration of uranium deposits in Armenia, oil processing, and building new railway lines.
On the issue of Nagorno-Karabakh, Kocharian said he saw little ground for being optimistic about a quick resolution, but said both sides were committed to OSCE-mediated peace talks over the disputed, mostly ethnic Armenian territory within Azerbaijan.
(ITAR-TASS, Interfax)
The Nagorno-Karabakh Conflict
The Nagorno-Karabakh Conflict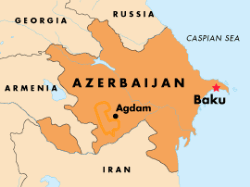 Click on the image to view an enlarged map of the Nagorno-Karabakh conflict zone

In February 1988, the local assembly in Stepanakert, the local capital of the Azerbaijani region of NAGORNO-KARABAKH, passed a resolution calling for unification of the predominantly ethnic-Armenian region with Armenia. There were reports of violence against local Azeris, followed by attacks against Armenians in the Azerbaijani city of Sumgait. In 1991-92, Azerbaijani forces launched an offensive against separatist forces in Nagorno-Karabakh, but the Armenians counterattacked and by 1993-94 had seized almost all of the region, as well as vast areas around it. About 600,000 Azeris were displaced and as many as 25,000 people were killed before a Russian-brokered cease-fire was imposed in May 1994.
CHRONOLOGY: For an annotated timeline of the fighting around Nagorno-Karabakh in 1988-94 and the long search for a permanent settlement to the conflict, click here.

Click on the icon to view images of the Nagorno-Karabakh conflict (Flash required)
To view an archive of all of RFE/RL's coverage of Nagorno-Karabakh,
click here.