Arman Kirakosian was speaking after visiting the family of Hrant Dink, the ethnic Armenian Turkish journalist killed in Istanbul on January 19.
In a letter to Dink's widow earlier this week, Armenian Foreign Minister Vartan Oskanian made a similar appeal.
Turkish Foreign Minister Abdullah Gul said today that a joint effort was needed to normalize relations. He said Armenia should not make "unjust demands" on Turkey.
Turkey and Armenia have no diplomatic relations. Their common border has been shut since 1993 because of Armenia's unresolved conflict with Azerbaijan, a close Turkish ally, over the disputed enclave of Nagorno-Karabakh.
In related news, a Turkish teenager was sent to jail today after his first appearance in court related to Dink's murder.
The prosecution is preparing charges against 17-year-old Ogun Samast, who has confessed to killing Dink for "insulting" Turks.
(Reuters, AP, AFP)
Unknown Victims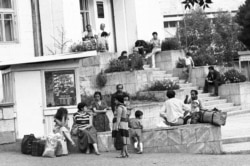 Ethnic Armenians displaced by fighting in Nagorno-Karabakh in the 1980s (Photolur)
HOW MANY MISSING? Well over a decade after conflicts in the South Caucasus froze, the International Committee of the Red Cross says new cases of missing people continue to emerge. Significant progress will, it fears, have to wait for final peace agreements.
Ethnic conflicts in the 1990s claimed tens of thousands of lives in the South Caucasus. Some 15 years later, many families are still searching for information about relatives who disappeared without a trace in the fighting.... (more)
RELATED ARTICLES
Frozen Conflicts Show Little Sign Of Thaw

South Caucasus Countries Discuss 'Frozen Conflicts,' Closer Ties
ARCHIVE
Click here to view archives of RFE/RL's coverage of the conflicts in Abkhazia, Chechnya, Kosovo, Nagorno-Karabakh, Ossetia, and Transdniester.

Click on the icon to view images of the Nagorno-Karabakh conflict (Flash required)