Attendees at the conference focused on the large-scale security threats that could accompany catastrophic climate change.
It is an aspect of the challenge facing governments, in particular, as the impact of global warming becomes more clear.
"The reason we're doing it now is that the science behind climate change is now reaching a very strong consensus that we have got a real problem -- many challenges ahead of us," says Rear Admiral Richard Cobbold, the director of Britain's Royal United Services Institute for Defense and Security Studies, which organized the conference. "What I think is quite new is that these challenges are bringing with them security challenges. And that's what our business is."
Cobbold says obstacles could include catastrophic shortages of water, food, and energy resources that might threaten all of mankind. There might also be loss of life and mass human migrations as a result of flooding or drought that climate change threatens to bring.
Extremist Threat
Authorities fear that some of those events could be exploited by terrorists.
Cobbold makes a hypothetical example of Bangladesh. Just a slight rise in sea level would plunge roughly half of that country underwater, forcing perhaps 17 million people to seek refuge in neighboring India. But India is constructing a 3,000-kilometer fence along its border with Bangladesh, and could hardly feed or shelter such a huge influx of people.
Difficulties are multiplied in cases when gaps in prosperity are even greater between those countries, according to Sir Crispin Tickell, the director of policy foresight at the James Martin Institute for Science and Civilization at Oxford University.
"The reactions to climate change can fall into many categories," Tickell says. "But I think there's going to be a lot of defensive ones in the case of states which are relatively well endowed and can cope with the problems created by climate change [while there will be] offensive reactions of those who feel themselves to be the sufferers and who would like very much to take an advantage of the resources that seem to be just over the fence."
Tickell stresses that disputes could be over water rights -- use of a river that flows through two neighboring countries -- or about greener pastures in a border area affected by differences in rainfall. Such tensions could trigger regional conflicts. If they then involve major energy resources -- such as oil or gas -- security implications would become immediately clear.
Creating A Referee
A former senior aide to the European Commission's Presidency and U.K. representative to the UN, Tickell advocates the creation of an arbiter. He likens such a "new, strong international body" -- which he calls the World Environment Organization -- to the World Trade Organization (WTO) in trade affairs.
William K. P. Kucera, a strategic planner for energy and environment at the international consulting firm Mott MacDonald and a delegate to the London conference, says there is a precedent for such an arbiter -- it's known as the Environment and Security Initiative.
"It's jointly run by NATO, OSCE, [the UN Development Program (UNDP)] and [the UN Environment Program (UNEP)]," Kucera says. "It started in 2003 and it currently operates in Central Asia, the Caucasus, Eastern Europe, and the Balkans, or Southeastern Europe. It basically maps areas first at the environmental level, looking at environmental degradation, different aspects, and then it also maps them from a security perspective."
Kucera explains that the organization focuses on preventing security headaches in the future that might resemble the hypothetical Bangladesh-India mentioned by Cobbold.
Russian Preparations
The attitude of energy-rich Russia also makes some experts uneasy. They think Moscow should be diversifying for the future, but is not doing so.
"Russia is probably the worst possible example of a country that should take a direct interest in this issue but does not for the moment," says Jonathan Eyal, the director of international security studies at the Royal United Services Institute. "Clearly, as a major energy producer, it should be worried about the discussion, whose entire purpose is to diversify away from the use of energy in the way that it is being used now."
As for the other former Soviet republics, Eyal says those with their own energy resources should start diversifying -- devoting proceeds to securing future food and water needs. Their pipeline connections to energy-hungry China should then lay foundations for future energy security and stability to the east.
Eyal suggests that countries like Georgia and Ukraine -- which lack resources and are being strong-armed by Russia -- should not despair.
"It may be that Russian blackmail is doing these countries a favor by forcing them -- at a much earlier stage -- to concentrate on a real economic model and one that moves away from high energy dependency," Eyal says.
Global Climate Change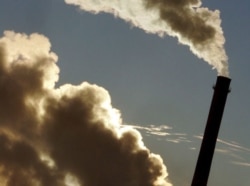 View a photo gallery summarizing some key findings of the Stern report on the economic costs of global warming (epa)

THE STERN REPORT: In October, former World Bank chief economist Sir Nicholas Stern issued a 700-page report on the economic impact of global warming. The report, which was commissioned by the British government, estimates that climate change could cost between 5 and 20 percent of global GDP by the end of the century....(more)
RELATED ARTICLES
Siberia's Once Frozen Tundra Is Melting
Blair Highlights Global-Warming Concerns
Scientists Argue About Need For Urgent Action
ARCHIVE
RFE/RL's
coverage of the environment
.