"All of us want to see a day when everyone, not just a fortunate few, can live in dignity and look to the future with hope," Annan said. "All of us want to create a world of harmony among human beings and between them and the natural environment on which life depends. That vision, which has always faced long odds, is now being place in deeper jeopardy by climate change."
Annan was speaking to environmental ministers and ambassadors from around the world at a meeting of the 12th UN Climate Change Conference in Kenya.
Annan also suggested imposing an international carbon tax, with revenue going toward fighting the effects of climate change.
(compiled from agency reports)

Global Climate Change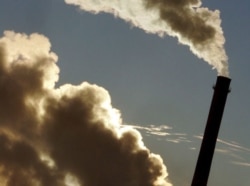 View a photo gallery summarizing some key findings of the Stern report on the economic costs of global warming (epa)

THE STERN REPORT: In October, former World Bank chief economist Sir Nicholas Stern issued a 700-page report on the economic impact of global warming. The report, which was commissioned by the British government, estimates that climate change could cost between 5 and 20 percent of global GDP by the end of the century....(more)
RELATED ARTICLES
Siberia's Once Frozen Tundra Is Melting
Blair Highlights Global-Warming Concerns
Scientists Argue About Need For Urgent Action
ARCHIVE
RFE/RL's
coverage of the environment
.