The statement was issued as the world body marked its annual International Day of Commemoration in memory of the victims of the Holocaust on January 29.
On January 26, the General Assembly adopted a resolution adopted that condemns any denial of the Holocaust. The resolution was adopted by all voting member states except for Iran, which publicly disassociated itself.
Iran's refusal to support the resolution received much negative notice during an Austrian-sponsored panel discussion called "Human Rights And Holocaust Denial" that was part of the January 29 remembrance activities at the UN's New York headquarters.
'A Resounding Voice'
Panelists expressed concern that anti-Semitism is on the rise and said Iranian President Mahmud Ahmadinejad is contributing to the problem.
U.S. Congressman Alcee Hastings (Democrat, Florida), chairman of the Commission on Security and Cooperation in Europe (Helsinki Commission), noted that Tehran has hosted two events in less than a year that questioned the extent of the Holocaust.
"After Ahmadinejad announced his intention to hold a second abominable anti-Semitic conference, the international community spoke again as one with a resounding voice," Hastings said. "And in the few remaining hours of the Congress last December, I authored and was proud to lead the House of Representatives in an unanimous vote to condemn Iran's commitment to hold such a [conference]."
Ahmadinejad has described the Holocaust as "a myth." He has also called for the Israel "to be wiped off the map."
Hastings said he would like Ahmadinejad to visit the concentration camps in Europe where Jews were murdered during World War II. He also invited the Iranian president to talk to Holocaust survivors.
"And I would ask Ahmadinejad to come go with me to Sydney, Australia, and see the Holocaust survivors that I've met there at a newly opened museum," Hastings said. "We should not tolerate this fool and we should all 'call him out,' in the vernacular of today's young people."
Germany Joins The Chorus
Germany's ambassador to the UN, Thomas Matussek, said his country has made denial of the Holocaust a criminal offense, adding that German prosecutors are aggressively pursuing cases against offenders.
Matussek reminded the audience that Germany was among the first states to condemn Ahmadinejad's statements on the Holocaust and Israel.
"We immediately stated that President Ahmadinejad's remarks are unacceptable," Matussek said. "We will have to tell Iran with all diplomatic means what is acceptable and what's not. Today and in the future we will unreservedly reject any attempt to deny or to qualify the Holocaust, and we will counter any attempt to put Israel's right to exist into question."
Matussek said his generation, those born after the end of the World War II, do not feel personal guilt for the Holocaust, but added that a sense of Germany's common responsibility is prevalent.
"We know that we have the responsibility to preserve the memory of the victims and of what happened, and to shape the future," he said. "And this is especially important today when ever-fewer survivors can pass on their personal memory, their personal experience, of the Holocaust, and therefore it is vital in our view to find new ways of keeping alive this memory of those terrible crimes for future generations."
Another participant in the panel discussion was Juan Mendez, an adviser to former UN Secretary-General Kofi Annan on the prevention of genocide. He said his country, Argentina, has a special case to resolve with Iran.
"President Ahmadinejad also deserves condemnation for refusing to cooperate with the judiciary of my country, Argentina, that is trying to investigate, prosecute, and punish Iranian suspects for having participated in a very grave attack on the Argentinian Jewish community in 1994 that cost 83 lives," he said. "I think the Argentine judiciary is very laudably insisting with international cooperation and demanding cooperation from the Iranian government."
The panel participants noted that attempts to deny the Holocaust have multiple negative effects. They said those effects include inciting hatred against Jews; fueling ethnic, religious, and racial sensitivities; and sparking speculation about alleged Jewish conspiracies to control the world.
Iranian Anti-Zionism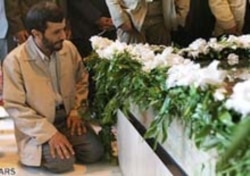 President Ahmadinejad visiting the tomb of Ayatollah Ruhollah Khomeini in October (Fars)


READ
Each year in Iran, the last Friday of Ramadan is celebrated as Qods (Jerusalem) Day, officially a day for expressing solidarity with the Palestinian people.
"I have been notifying the Muslims of the danger posed by the usurper Israel,"
Ayatollah Ruhollah Khomeini,
father of Iran's Islamic Revolution, said in an August 1979 announcement. "I ask all the Muslims of the world and the Muslim governments to join together to sever the hand of this usurper and its supporters...and, through a ceremony demonstrating the solidarity of Muslims worldwide, announce their support for the legitimate rights of the Muslim people..."
(more)
SEE ALSO:
Iranian President's Latest Comments About Israel Spark Further Condemnation
Iranian President Says Light Surrounded Him During UN Speech
INTERVIEW: On December 22, 2005, RFE/RL's Radio Farda spoke with FRED ZEIDMAN, director of the U.S. Holocaust Memorial Museum in Washington, D.C. Zeidman commented on Iranian President Mahmud Ahmadinejad's anti-Israeli comments.
LISTEN
Hear the complete interview (about nine minutes):
Real Audio Windows Media
ARCHIVE: For an archive of RFE/RL's coverage of Iran, click here.