The January 29 rally came after the new government of Czech Prime Minister Mirek Topolanek said last week it would begin talks with Washington over basing the antimissile system in the central European country.
The issue has awoken Czech memories of their Cold War-era occupation by Soviet-led troops and drawn strong criticism from Russia.
"I don't like it when this country always kisses somebody's ass." Pavel, Prague university student.
Rally organizer Jan Tamas says the message is clear: The antimissile system, which Washington says is needed against ballistic missile threats from foes such as Iran and North Korea, should not be based in the Czech Republic, even if the country is in NATO.

As Tamas explained at the rally, the protesters want the question of hosting the system, the main part of which would be sited in neighboring Poland, to be put to a nationwide referendum.
"The aim of our initiative 'No to the bases' is to discourage Americans, who want to place an antimissile base in our country, whether or not there will be missiles or a radar," Tamas said. "I am satisfied with today's action. But I will not be satisfied until Americans decide not to place the base here. We will continue in our protests until victory or until the whole nation decides [in a referendum] to place the base here, which I don't think will happen."
Strong Criticism From Russia
The protesters had few kind words for the new Czech center-right government, which does not oppose the missile-defense system and rejects calls for a referendum.
On January 20, shortly after taking office, Prime Minister Mirek Topolanek announced the United States had officially asked Prague to start negotiations on hosting a radar tracking system that would be part of America's larger interceptor missile-defense system.
Almost immediately, that announcement was greeted with strong criticism from Russia.
Colonel General Vladimir Popovkin, chief of Russia's Space Forces, told reporters last week that the system would pose a "clear threat" to Moscow.
On January 26, in an interview with ITAR-TASS, Russian Foreign Ministry spokesman Mikhail Kamynin said a U.S. antimissile base would amount to a major reconfiguration of the U.S. military presence in Europe. He said the move would have "negative consequences for international security."
While the European part of the antimissile system would take a few years to be built, U.S. Brigadier General Patrick O'Reilly, deputy director of the Pentagon's Missile Defense Agency, said on January 29 that the U.S. worldwide system -- which includes a number of antimissile sites in Alaska -- would be ready to guard against attacks within a year.
Still, Russian military expert Aleksandr Goltz says most of his colleagues agree that the system wouldn't actually be very effective.
"The strategic and military value of deploying this section of [the missile-defense system] is more than dubious," Goltz told RFE/RL. "This probably has more to do with a certain political value, namely the United States' drive to establish special military relations with two new states of the so-called new Europe: the Czech Republic and Poland."
Polish officials have yet to officially confirm the imminent start of negotiations with Washington.
But in a meeting in Warsaw last week with Czech President Vaclav Klaus, Polish President Lech Kaczynski said that, in general, "the idea of an anti-missile system against irresponsible powers is certainly a good one."
However, Piotr Paszkowski, a spokesman for Poland's Defense Ministry, said last week that the government would have to work hard to persuade the public to accept the system.
Memories Of 1968 Invasion
As for Czechs, many of them still recall their country's military occupation after Warsaw Pact troops invaded to put down the Prague Spring reform movement of 1968.
Some protesters held up signs that said "1968 - Go Home, Ivan! 2007 - Go Home, John!"
"I don't agree with U.S. foreign policy," said one of them, a Prague university student called Pavel. "Above all, I don't like it when this country always kisses somebody's ass."
Journalist Frantisek Sulc, who has co-authored a book about missile defense, says most Czechs probably don't have a clear opinion on U.S. foreign policy, but they do remember 1968.
"A lot of people don't think about missile defense," Sulc says. "They're refusing the missile-defense site not because they are anti-American, or [because] they are anti-Bush or they are pacifists, but for the simple reason that they have a feeling that they are giving up too much of their sovereignty and they are comparing it to the presence of Soviet troops after 1968."
But where the Czechs actually stand on the issue is up for debate.
Tamas, the rally organizer, says 70 percent of Czechs oppose hosting the radar system.
But in random interviews, several people at the rally actually said they did not oppose the system and that they were there simply to listen to the debate.
"I have to say this problem is being exaggerated," said Stanislav Beranek. "The radar itself is not such a big problem and I wouldn't see it as a problem if there were an American infantry base located here. But I don't have a strong opinion either way."
For now, the Czech government appears intent on trying to avoid any referendum on the issue.
But hosting the radar station would require parliament's approval, and it's unclear whether the government would have the necessary support.
Opponents of the radar station are urging the main opposition party, the Social Democrats, as well as the Green Party, which is part of the ruling coalition, to clarify their position on the issue.
Where those parties come down on the question could determine the radar station's fate.
(RFE/RL correspondent Claire Bigg contributed to this report)
The Proliferation Threat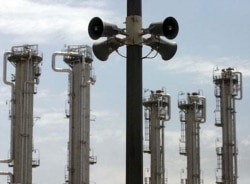 The Arak heavy-water plant in central Iran (Fars)


BENDING THE RULES. Henry Sokolski, executive director of the Nonproliferation Policy Education Center, told an RFE/RL-Radio Free Asia briefing on January 9 that the West is hamstrung in dealing with Iran and North Korea because of the way it has interpreted the international nonproliferation regime to benefit friendly countries like India and Japan.
LISTEN
Listen to the entire briefing (about 90 minutes):

Real Audio
Windows Media
RELATED ARTICLES
Iran, North Korea Present Proliferation Challenges
Tehran Watches As North Korea Tests Global Resolve
Rogue Nuclear Programs Threaten New Arms Race
Why Shouldn't Pyongyang Join Nuclear Club?