President Mahmud Ahmadinejad has promised to announce "good news" about advances in the country's nuclear program during the festivities.
Iran says its nuclear program is peaceful, but Western critics have accused Tehran of secretly trying to develop nuclear weapons.
In December, the UN Security Council adopted limited sanctions against Iran aimed at curbing its nuclear program.
Iran's Mehr News Agency quoted influential former President and current Expediency Council Chairman Ali Akbar Hashemi-Rajsanjani as telling a crowd today that "the West" is seeking to divide the Shi'ite and Sunni communities. But he added that "the Islamic ummah...can break the domination of the West with its unity."
February 1979 marked the return to Iran of the exiled Ayatollah Ruhollah Khomeini, the father of the country's Islamic Revolution.
The "Ten Days Of Dawn" conclude on February 11.
(with additional AFP reporting)
The Iranian Revolution
Iranians demonstrate in Tehran on February 10, 1979, shortly after the return to Iran of Ayatollah Ruhollah Khomeini (epa)
THE ISLAMIC REPUBLIC: Iran's 1979 revolution ended 2,500 years of monarchy and established the world's first modern theocracy. In February 2004, on the 25th anniversary of that event, RFE/RL produced a special report on how the ensuing years have measured up to the expectations of those times.
"I had been freed from jail in those days, and I hoped that the [revolutionary] forces would bring democracy and progress for the country, despite the religious leadership that caused some doubts, I hoped that the press would be free, the books would be published without censorship, [political] parties, associations and civil society organizations would be formed, and I hoped that I would be able to write freely. In fact, in these 25 years, I have not seen anything but the death and silencing of those beautiful hopes and dreams," Faraj Sarkouhi, an exiled writer and journalist, told RFE/RL....(more)
ARCHIVE
RFE/RL's reporting on Iran.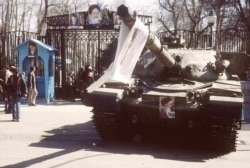 A tank bearing a portrait of Ayatollah Ruhollah Khomeini takes up a position in Tehran on February 12, 1979 (epa)