The vote on January 24 permits the withdrawal of 637 billion tumans -- or a little under $700 million -- to finance shortfalls in the health and health-education sectors, according to the daily "Etemad-i Melli" on January 25.
Opponents of the motion objected on various grounds -- constitutional, procedural, and financial. The motion was passed as an amendment to the law on Iran's current five-year development plan (2005-10). It is earmarked to plug urgent gaps in the health and medical-education sectors -- including paying overdue wages, inspecting and possibly constructing new hospitals to replace those that are more than 50 years old, and subsidizing treatment for some patients.
Empty Tank?
The fund was created to help cushion Iran's economy from oil-price fluctuations -- and absorb excess oil revenues, "Etemad-i Melli" reported.
One Tehran-based legislator, Gholamreza Mesbahi-Moqaddam, cited a purported Finance Ministry warning that the fund is now empty, "Etemad-i Melli" reported. The lawmaker accused the government of having already taken out twice as much in the current year (the Persian year to March 2007) as it did the preceding year.
There was a contentious debate ahead of the fund transfer's passage. A member of the parliamentary Economy Committee, Elias Naderan, claimed that "the foreign-exchange reserve account has no cash in it to take out."
The lawmaker who heads the parliamentarian research center, Ahmad Tavakkoli, challenged the government to present a formal bill to legislators if it needed funds above those already approved in budget bills, "Etemad-i Melli" reported. He claimed the account held about $400 million and wondered aloud where exactly the parliamentary presidium thought the money would come from.
It was not immediately clear -- except perhaps to accountants -- how the government can spend from a seemingly empty fund.
The daily "Etemad-i Melli" suggested on January 25 that the account is not merely empty -- but vastly overdrawn. It said the nominal reserves of $9 billion appear to fall $3 billion short of the $12 billion that the government has actually spent.
Other Concerns
This dispute arises amid concerns that Iran's oil revenues might not rise in 2007, given the recent easing of crude-oil prices.
Legislator Mohammad Khosh-Chehreh has observed that the government's proposed budget -- for the Persian year from March 21, 2007 -- remains greatly dependent on oil revenues. That represents a departure from the goals of the fourth five-year plan and the "20-Year Outlook," a document that sets out Iran's medium-term development goals, "Etemad-i Melli" reported.
There are conflicting reports of the price per barrel on which the government has based its spending plans for the next budgetary year. The head of international affairs for the National Iranian Oil Company, Hojjatollah Ghanimifard, said recently that the government has proposed a per-barrel assumption of $33.70, ISNA reported on January 27. He added that Iran expects to earn about $60 billion from oil sales in 2007.
But Economy Committee member Naderan has said a close examination shows that government spending plans are based on a $45-a-barrel price, although he conceded that the proposed budget was generally more disciplined than in the past.
These revenue concerns come amid new calls by senior officials -- including Expediency Council Chairman Ali Akbar Hashemi-Rafsanjani and Judiciary Chief Ayatollah Mahmud Hashemi-Shahrudi -- for an acceleration of stated privatization plans and backing for private-sector activities.
A deputy head of the state Privatization Organization, Ismail Gholami, has suggested that Iran might raise about $7.5 billion in the next year by privatizing large-scale state concerns, including in shipping, and steel and aluminum production, ISNA reported on January 27.
The Iranian Economy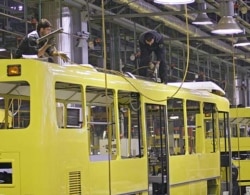 Buses being produced at a factory in Tehran (Fars)

IN NEED OF DIVERSIFICATION. Populist Iranian President Mahmud Ahmadinejad is having trouble fulfilling his promises to put the country's petrodollars on the plates of average citizens. Inflation and unemployment remain high and the economy is dominated by the energy sector.
RELATED ARTICLES
Foes Challenge President's Economic Rhetoric
Power Cuts In An Energy-Rich Land Spark Protests
Government Balks At Gasoline Rationing
Weak Economy Challenges Populist President
ARCHIVE
RFE/RL's
coverage of Iran
.
SUBSCRIBE
For weekly news and analysis on Iran by e-mail,
subscribe to "RFE/RL Iran Report."