Local Official Of Al-Sadr's Militia Killed In Ba'qubah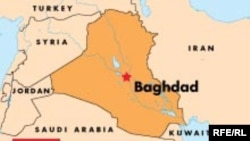 (RFE/RL) February 5, 2007 -- Iraqi and U.S. forces have killed a political leader of the Imam Al-Mahdi Army militia loyal to radical Shi'ite cleric Muqtada al-Sadr in a raid on his home in Ba'qubah.
A U.S. military statement says Khadhim al-Hamadani had directed kidnappings and attacks on U.S. and Iraqi troops.
On February 4, police said a local leader of al-Sadr's movement, Sheikh Khalil al-Maliki, was killed in a drive-by shooting in Al-Basrah.
In fresh violence in Baghdad today, two car bombs in separate neighborhoods killed at least 24 people and wounded many more.
Meanwhile, the U.S. military today reported the deaths of two soldiers in combat on February 4, while Britain reported the 100th combat death for British troops.
On February 4, the Interior Ministry said about 1,000 Iraqis -- including civilians, security forces, and gunmen -- had been killed in the last week.
(Reuters, AP)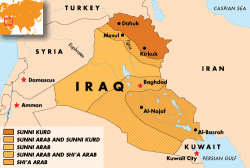 Click to enlarge the image.
SUNNI, SHI'A: Iraq is riven along sectarian lines, faults that frequently produce violent clashes and are a constant source of tension. Sectarian concerns drive much of Iraqi politics and are the main threat to the country's fragile security environment.


THE COMPLETE PICTURE: Click on the image to view RFE/RL's complete coverage of events in Iraq and that country's ongoing transition.