The report is titled "Time To Talk: The Case For Diplomatic Solutions On Iran." It warns of "unthinkable" regional and international consequences of a strike on Iran. It also calls for a diplomatic solution to the Iranian nuclear crisis and "face-to-face talks" between Washington and Tehran, which have not had formal diplomatic relations since the embassy hostage crisis that followed the Iranian revolution in 1979.

The report was issued by 15 British organizations -- including the Foreign Policy Center, the Oxford Research Group, and Oxfam.

"We think that it is important that every effort is made to pursue a diplomatic option because we think that the consequences of military action are just far too serious and would be unthinkable in their extent and damage," Oxfam's director for Middle East, Adam Leach, told RFE/RL today.
The plea comes as senior U.S. officials publicly downplay the risk of a military confrontation over Washington's mounting grievances against Tehran.

Washington has assailed Iran over its nuclear activities and alleged Iranian support for insurgents in Iraq. The United States has toughened its language in recent weeks, and it has increased its military presence in the Persian Gulf.

'Highly Dangerous'

Speculation has emerged over possible U.S. or Israeli military strikes against Iranian nuclear facilities.

Blair has been among Washington's staunchest allies throughout the nearly five-year conflict in Iraq.

The report says any military action against Iran could be "wholly counterproductive" and "highly dangerous." It also argues that any attack would increase Iran's nuclear determination and lend credibility to Iranian hard-liners. It warns that a conflict would set back hopes for stability in Iraq, hurt counterterrorism efforts, and lead developing countries into greater poverty.

Leach warned of the risk to Iran's civilian population.

"We know from [the experience in] Iraq that it's been much more serious than was ever anticipated, and the numbers of civilians affected is rising with a hundred people estimated dying a day in Iraq," Leach said. "So we don't want that kind of thing to happen again. We know that the sighting of nuclear targets in Iran is very complicated -- they're diverse, they're fortified, and they're hidden. And we fear that [an] attack on Iran would have very serious civilian consequences."

The report echoes concerns expressed recently by some other observers. Three retired U.S. commanders who warned on February 4 in the "Sunday Times" newspaper of the dire consequences that an attack would have on Middle East security and neighboring Iraq.

International Atomic Energy Agency (IAEA) Director-General Muhammad el-Baradei warned recently at the World Economic Forum in Davos, Switzerland, that an attack on Iran would be "catastrophic" and would encourage the development of a nuclear bomb.

Talking Diplomacy

U.S. officials have said that -- for now -- they are committed to diplomacy. But they also say that no options have been ruled out concerning Iran.

U.S. Undersecretary of State Nicholas Burns told CNN on January 31 that Washington is on a "diplomatic track" and has no intention of launching military action against Iran.

Inside Iran, there appears to be growing unease.

On February 4, influential former President Ali Akbar Hashemi-Rafsanjani said Washington has planned aggression against Iran and will see how Iranians stand up to it.

Despite the ongoing war of words between Tehran and Washington, the "Time to Talk" report aid agencies and think tanks emphasizes that there is still room for diplomacy.

It says the potentially devastating consequences of military action can only be avoided through direct U.S.-Iranian talks.

The report makes a number of recommendations -- including a compromise on the U.S. demand for Iran's suspension of uranium enrichment as a precondition for negotiations.

It also calls for a further developing a "grand bargain" package of incentives -- expanding on those offered by major world powers in June 2005 -- in return for Iran's suspension of sensitive nuclear activities.

Oxfam's Leach said Britain should push for talks between Iran and the United States.

"We want to see full effort by other governments, including the U.K.'s government, to bring that about," he said. "There are various measures suggested in the report as a way of making it possible for negotiations to begin again."

Senior Iranian officials have remained defiant amid the sharpened U.S. rhetoric, and said their country will not abandon its right to uranium enrichment.

Iran says its nuclear program is peaceful, but it has done little to appease Western skeptics. In December, the UN Security Council adopted limited sanctions against Iran aimed at curbing its nuclear program.

Today in Tehran, Iranian government spokesman Gholam-Hossein Elham rejected the possibility of concessions to the West and said that such a move would simply lead to "more concessions" in the future.

Iran, he said, has "no other alternative than continuing resistance" to the pressure being exerted by the West.
The Proliferation Threat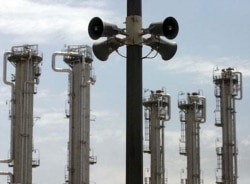 The Arak heavy-water plant in central Iran (Fars)


BENDING THE RULES. Henry Sokolski, executive director of the Nonproliferation Policy Education Center, told an RFE/RL-Radio Free Asia briefing on January 9 that the West is hamstrung in dealing with Iran and North Korea because of the way it has interpreted the international nonproliferation regime to benefit friendly countries like India and Japan.
LISTEN
Listen to the entire briefing (about 90 minutes):

Real Audio
Windows Media
RELATED ARTICLES
Iran, North Korea Present Proliferation Challenges
Tehran Watches As North Korea Tests Global Resolve
Rogue Nuclear Programs Threaten New Arms Race
Why Shouldn't Pyongyang Join Nuclear Club?