Abdullah Gul, speaking after meeting top U.S. officials in Washington on February 6, said the proposed resolution would be an irritant to otherwise close cooperation with the United States on issues such as Iraq.
"I see this as a real threat to our relationship," he said. "While we are having cooperation in these difficult fields, while we are fighting shoulder to shoulder in these fields, while we are supporting each other and facing these challenges, this resolution, if it is accepted, I believe that if that happens, it will be a real shock."
U.S. officials have said they will try to block the resolution.
"In terms of the discussions within the U.S. Congress, look, we understand very clearly that this is a sensitive issue not only for the Turkish people but for the Armenian people," U.S. State Department spokesman Sean McCormick said. "We have made our views known on the potential for a resolution or for a bill."
Turkey denies the World War 1-era deaths of around 1.5 million Armenians amounted to genocide.
(AP)
Examining History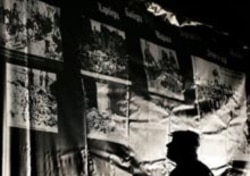 CALL IT GENOCIDE? Questions surrounding the mass killings of Armenians at the beginning of the last century continue to dominate relations between Armenia and Turkey. In April, Ankara proposed conducting a joint Armenian-Turkish investigation into the mass killings and deportations of Armenians during World War I.
Turkish leaders suggested that the two countries set up a joint commission of historians to determine whether the massacres carried out between 1915 and 1917 constituted genocide. Armenia, however, insisted it would continue to seek international recognition and condemnation of what it says was a deliberate attempt at exterminating an entire people....(more)
See also:
Armenians Mark 90th Anniversary Of Start Of Massacres
Armenia: Tragedy Remains On Europe's Political Map
ARCHIVE: For a complete archive of RFE/RL's coverage of Armenia, click here.