U.S. military spokesman Major General William Caldwell confirmed the incident earlier today.
"We have a CH-46 [helicopter] that is down," Caldwell said. "The quick reaction force is on site, and the investigation is going on as we speak. That is a location to the northwest here of Baghdad, about [30 kilometers away]."
The CH-46 can carry up to 55 passengers.
Four other U.S. helicopters have crashed or been shot down in Iraq in the last few weeks, killing a total of 21 troops and private contractors.
Caldwell also announced that new Iraqi-led security operations intended to quell insurgent and sectarian fighting in Baghdad are now under way.
The Iraqi general who is leading the security drive took over the operation headquarters on February 5, but there have been no further announcements on the operations until today.
(AP, Reuters, AFP)
The International Coalition In Iraq
The International Coalition In Iraq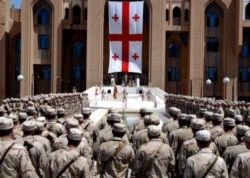 Georgian soldiers marking Georgian Independence Day in Baghdad on June 6 (epa)
COALITION MEMBERS: In addition to the United States, 28 countries are Multi-National Force-Iraq (MNF-I) contributors as of May 31, 2006: Albania, Armenia, Australia, Azerbaijan, Bosnia-Herzegovina, Bulgaria, the Czech Republic, Denmark, El Salvador, Estonia, Georgia, Italy, Japan, Kazakhstan, Latvia, Lithuania, Macedonia, Moldova, Mongolia, the Netherlands, Poland, Portugal, Romania, Singapore, Slovakia, South Korea, Ukraine, and the United Kingdom. Fiji is participating as part of the UN mission in Iraq. Hungary, Iceland, Slovenia, and Turkey are NATO countries supporting Iraqi stability operations but are not part of MNF-I.
NON-U.S. MILITARY PERSONNEL IN IRAQ: United Kingdom, 8,000 as of May 26, 2006; South Korea, 3,237 as of May 9, 2006; Italy, 2,900 as of April 27, 2006; Poland, 900 as of May 30, 2006; Australia, 900 as of March 28, 2006; Georgia, 900 as of March 24, 2006; Romania, 860 as of April 27, 2006; Japan, 600 as of May 30, 2006; Denmark, 530 as of May 23, 2006; All others, 1,140.
(Source: The Washington-based Brooking Institution's Iraq Index of June 15, 2006)


THE COMPLETE STORY: RFE/RL's complete coverage of events in Iraq and that country's ongoing transition.
RADIO FREE IRAQ: To visit the Arab-language website of RFE/RL's Radio Free Iraq, click here.