Envoys from North and South Korea, the United States, Japan, Russia, and China gathered today for talks at a secluded compound in western Beijing.
Since their start in 2003, the six-party talks have produced only a single joint statement -- in September 2005. That statement outlined a plan for North Korea to abandon its nuclear program in exchange for aid and a pledge from the United States that it wouldn't seek regime change in the Stalinist state.
U.S. negotiator Christopher Hill expressed moderate optimism today about the current round of discussions: "When we do get a set of actions, if we do, it will be widely seen as a very solid, positive step toward implementation of the September [2005] agreement, with the understanding that there's no success here until we implement the full agreement."
South Korean envoy Chun Yung-woo was more blunt, expressing his dissatisfaction with the lack of progress. He said the denuclearization of North Korea has been so far "mostly talk versus talk." Chun told the media the time has come "to enter the stage of actions versus actions."
Chun later told reporters that China may draw up and circulate a draft agreement as early as today.
Change In North's Position?
North Korea's envoy, Kim Kye Gwan, said upon arrival in Beijing that Pyongyang is ready to discuss "first-stage" steps toward nuclear disarmament.
Kim added that any moves by North Korea would depend on Washington giving up what he called its "hostile policy and come out toward peaceful coexistence."
Still, his comments marked a change in North Korea's position from the last round of talks in December, when Kim refused to even discuss disarmament and instead demanded the lifting of U.S. financial restrictions against a Chinese bank where North Korea held accounts.
North Korea has twice boycotted the nuclear talks, alleging that various U.S. policies show the Bush administration intends to topple its communist government.
Hill today warned Pyongyang against further delays.
Chance Seen For Progress
"Clearly, it's a very important round because those of us who have been involved with this know that this cannot go on forever. I think you all [in the media] would get a little tired of it if it did. And, really, it's a [very] serious means to a serious end, and we are trying to achieve denuclearization of the Korean Peninsula."
U.S. experts who visited Pyongyang last week said North Korea may propose a freeze of its main nuclear reactor and a resumption of international inspections in exchange for energy aid and a normalization of relations with the United States.
China, meanwhile, called on participants to adopt a "pragmatic attitude." Foreign Ministry spokeswoman Jiang Yu said that "a sound beginning for the implementation of the joint statement" is necessary.
The nuclear standoff with North Korea was sparked in late 2002 after the United States accused Pyongyang of having a secret uranium-enrichment program, in violation of a 1994 deal between the two countries. North Korea expelled international inspectors and restarted its reactor, moves that culminated in the country's first-ever nuclear test in October.
The United States and key North Korean allies China and Russia backed UN sanctions against North Korea in the wake of the nuclear test.
Washington has since engaged in a series of diplomatic overtures that have been welcomed by Pyongyang.
The Proliferation Threat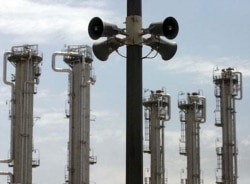 The Arak heavy-water plant in central Iran (Fars)


BENDING THE RULES. Henry Sokolski, executive director of the Nonproliferation Policy Education Center, told an RFE/RL-Radio Free Asia briefing on January 9 that the West is hamstrung in dealing with Iran and North Korea because of the way it has interpreted the international nonproliferation regime to benefit friendly countries like India and Japan.
LISTEN
Listen to the entire briefing (about 90 minutes):

Real Audio
Windows Media
RELATED ARTICLES
Iran, North Korea Present Proliferation Challenges
Tehran Watches As North Korea Tests Global Resolve
Rogue Nuclear Programs Threaten New Arms Race
Why Shouldn't Pyongyang Join Nuclear Club?