People were crowding into Tehran's Azadi ("Freedom") Square, where they heard a speech by President Mahmud Ahmadinejad.
Ahmadinejad commented during the speech on the conflict over Iran's nuclear program.
"We have said that we are ready for negotiations, but only under fair, equal conditions," he said. "Your [uranium enrichment] facilities are working day and night, [then you expect us] to stop [uranium enrichment] and keep begging for our own right at your office door? The Iranian nation will never accept such humiliation."
He also discussed possible economic sanctions against his country. "The weapon of sanctions belongs to an era of 30 years ago," he said. "You cannot use the threat of sanctions even against countries considerably weaker and smaller than Iran, let alone against the great nation of Iran."
Iran has refused to give in to international demands that it suspend uranium-enrichment activities, which the West fears could be used to make a nuclear bomb. Tehran insists its nuclear drive is aimed at generating energy.
Today's events are the culmination of celebrations marking the 28th anniversary of the fall of the U.S.-backed shah and the rise of Ayatollah Ruhollah Khomeini, the leader of the revolution and founder of the Islamic Republic.
(IRNA, AFP, Reuters)
The Iranian Revolution
Iranians demonstrate in Tehran on February 10, 1979, shortly after the return to Iran of Ayatollah Ruhollah Khomeini (epa)
THE ISLAMIC REPUBLIC: Iran's 1979 revolution ended 2,500 years of monarchy and established the world's first modern theocracy. In February 2004, on the 25th anniversary of that event, RFE/RL produced a special report on how the ensuing years have measured up to the expectations of those times.
"I had been freed from jail in those days, and I hoped that the [revolutionary] forces would bring democracy and progress for the country, despite the religious leadership that caused some doubts, I hoped that the press would be free, the books would be published without censorship, [political] parties, associations and civil society organizations would be formed, and I hoped that I would be able to write freely. In fact, in these 25 years, I have not seen anything but the death and silencing of those beautiful hopes and dreams," Faraj Sarkouhi, an exiled writer and journalist, told RFE/RL....(more)
ARCHIVE
RFE/RL's reporting on Iran.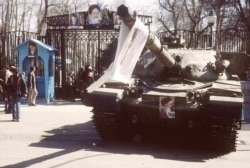 A tank bearing a portrait of Ayatollah Ruhollah Khomeini takes up a position in Tehran on February 12, 1979 (epa)