U.S. Says Iranian Bombs Have Killed 170 Iraqi Troops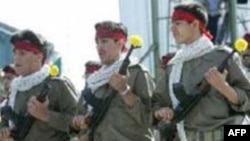 Islamic Revolution Guard Corps during an anniversary marking the Iran-Iraq War in 2003 (AFP) February 11, 2007 -- Unnamed senior U.S. defense officials say Iranian-built bombs smuggled into Iraq have killed at least 170 U.S. and allied soldiers since June 2004 and wounded 620 others.
The allegation were made today at a background briefing in Baghdad's fortified Green Zone.
Three coalition officials met reporters to point the finger at the Al-Qods Force of the Islamic Revolution Guards Corps, part of Tehran's elite forces accused of links with foreign militants.
One official said the "Qods Force arms extremists and insurgents to carry out terrorist attacks and guerrilla warfare."
He also said the "Qods Force provides advice, training and weapons to proxy forces in Iraq." The men spoke on condition of anonymity for their security.
Reporters were issued with a disc containing photographs of alleged Iranian weapons seized in Iraq showing manufacturing dates in late 2006.
(AFP, AP)

SUBSCRIBE For weekly news and analysis on Iraq by e-mail,
subscribe to "RFE/RL Iraq Report."