Iranian Parliament Approves New Justice Minister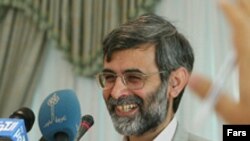 Gholam Hossein Elham (file photo) (Fars) February 13, 2007 -- The Iranian parliament today narrowly approved the appointment of government spokesman Gholam Hossein Elham as the new justice minister.
He succeeds Jamal Karimirad, who was killed in an automobile collision in December.
Elham, a close aide to President Mahmud Ahmadinejad, is expected to remain as government spokesman after becoming minister.
(dpa, AFP)