International Atomic Energy Agency (IAEA) Executive Director Mohammad el-Baradei described the new accord as a "step in the right direction."
The accord, reached in Beijing after days of six-nation talks, requires Pyongyang to shut down its main nuclear reactor and eventually dismantle its nuclear program in return for $300 million of fuel and other aid.
Meanwhile, North and South Korea agreed to resume minister-level talks, seven months after such dialogue collapsed.
North Korea's state-run news agency said Pyongyang agreed to renewed dialogue with South Korea. An initial North-South meeting is scheduled for February 15. Talks on improving ties between the two Koreas stalled last July after North Korea conducted missiles tests.
(compiled from agency reports)
The Proliferation Threat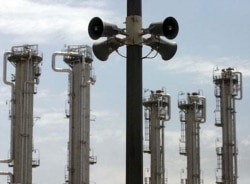 The Arak heavy-water plant in central Iran (Fars)


BENDING THE RULES. Henry Sokolski, executive director of the Nonproliferation Policy Education Center, told an RFE/RL-Radio Free Asia briefing on January 9 that the West is hamstrung in dealing with Iran and North Korea because of the way it has interpreted the international nonproliferation regime to benefit friendly countries like India and Japan.
LISTEN
Listen to the entire briefing (about 90 minutes):

Real Audio
Windows Media
RELATED ARTICLES
Iran, North Korea Present Proliferation Challenges
Tehran Watches As North Korea Tests Global Resolve
Rogue Nuclear Programs Threaten New Arms Race
Why Shouldn't Pyongyang Join Nuclear Club?