The report caps a year-long high-profile investigation by a special European Parliament committee into CIA activities in Europe.
The report accuses 13 EU member states of tolerating and concealing the practice of "extraordinary rendition" -- the CIA's term for transferring terror suspects to foreign countries, where they could face torture.
The report says at least 1,245 CIA-operated flights have flown over European airspace or stopped at European airports since September 11, 2001.
However, the report gives no direct proof that the CIA ran secret prisons in Europe -- an allegation that prompted the start of the inquiry.
The document calls on all EU governments to provide full information on their cooperation or knowledge of CIA flights to the European Commission.
(compiled from agency reports)

U.S. Report On Global Human Rights
U.S. Report On Global Human Rights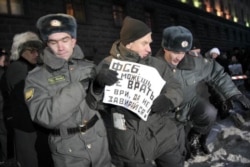 Police in Moscow arrest human rights demonstrators on February 1 (courtesy photo)
THE RECORD ON RIGHTS: On March 8, the U.S. State Department issued its global report on human rights. According to the report, 15 years after the breakup of the Soviet Union, human rights are improving in many post-communist countries. But problems persist in others, it says, despite the worldwide explosion of information and Western efforts to spread democracy. (more)
For more detailed information, see:
Azerbaijan Cited For Political Harassment, Police Brutality
Child Labor, Human Trafficking Cited In U.S. Report On Afghanistan
U.S. Says China, Iran 'Most Systematic' Rights Violators
Human Rights Not A Priority In Central Asia, U.S. Report Says
U.S. Report Points To Serious Abuses In Iraq
Abuses In Chechnya, Centralized Power Cited In U.S Report On Russia
U.S. Says Serious Human Rights Violations Occurring In Iran



SUBSCRIBE
For a regular review of civil-society developments throughout RFE/RL's broadcast region,
subscribe to "RFE/RL (Un)Civil Societies."