Italian Court To Begin Hearing Rendition Case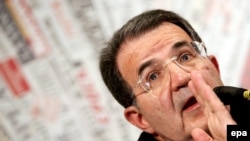 Italian Prime Minister Romano Prodi has been asked to seek extraditions (epa) January 9, 2007 -- A court in Milan is due to begin hearing arguments today on whether to charge 26 U.S. citizens and five Italians in connection with the purported kidnapping of an Egyptian cleric.
Osama Mustafa Hassan Nasr says he was abducted from a Milan street in 2003 and flown to a prison in Egypt where he says he was tortured.
All but one of the U.S. citizens have been identified as CIA agents. The Italians are all secret-service officials. None are expected in court.
Prosecutor Armando Spataro has asked Prime Minister Romano Prodi to seek the extradition of the U.S. suspects.
The CIA has refused to comment on the case, but analysts say it is unlikely the CIA agents would be turned over for trial abroad.
The case has highlighted the CIA extraordinary rendition program in which terrorism suspects are transferred to third countries where some are allegedly tortured.
(AP)