Anatoly Serdyukov, who was head of the Federal Tax Service, replaces Ivanov as defense minister, who held the post since 2001.
"I have two university degrees: one in economics and one in law," Serdyukov told journalists in Moscow today. "After receiving my economics degree, I was drafted into the armed forces, where I served for 1 1/2 years. For the past three years, I have worked in Moscow as head of the Federal Tax Service."
Putin praised Ivanov in a televised announcement, saying he "fulfilled the tasks he faced as defense minister." The president added, however, that Ivanov cannot "sit in two chairs."
"I have signed a decree expanding Sergei Borisovich Ivanov's responsibilities in the government of the Russian Federation, giving him the duties of coordinating, in addition to the military-industrial complex, the civilian sector of the economy," Putin said. "Sergei Borisovich's status is raised to the level of first deputy chairman of the Russian government."
Ivanov is widely considered a leading candidate to succeed Putin as president in 2008, and the promotion puts him on par with fellow First Deputy Prime Minister Dmitry Medvedev, who is also often mentioned as a potential presidential candidate.
"I think certain progress in the development of the armed forces has been made," Ivanov said following the announcement. "Now, I will go back to civilian affairs, but I want to assure you that I have developed strong attachment to the armed forces during these six years, and I will always stand up for them. I will be overseeing, among other matters, the military-industrial complex, trying to support our army and navy from the point of view of industrial development and new technologies."
Putin today also appointed the head of the government apparatus, Sergei Naryshkin, as a deputy prime minister, giving him primary responsibility for overseeing foreign economic relations.
(with material from agency reports)

Expert Commentary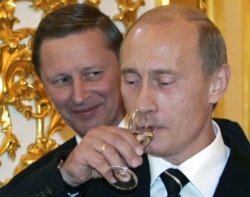 Ivanov (left) with President Putin at a Kremlin reception in June 2006 (epa)

THE NEXT PRESIDENT? RFE/RL's Russian Service asked several leading analysts to comment on President Vladimir Putin's promotion of Sergei Ivanov and what it might augur for the 2008 presidential election.
Political commentator and journalist Yuliya Latynina: I think the most important thing here is not the naming of the defense minister as first deputy prime minister so much as his removal as defense minister. Maybe I am mistaken, but I have the impression that Ivanov has sort of worn on Putin. Recently, all of his public appearances have been very loud and memorable. No matter what he said about [various hazing cases], it is likely people started wondering -- not only the public, but service personnel -- is this the person who is running the Defense Ministry? On the other hand, Putin does not abandon his friends for such small things as professional incompetence. Especially since professional incompetence is not a disqualification -- a successor, by definition, has to be professionally unqualified for his post.
Military journalist Aleksandr Golts: I think this is a sort of new chance for Ivanov, because it has finally become clear that one does not gain much popularity as defense minister. It is due in no small part to Ivanov that our army is in the position that it is in now, so it would be hard to think that this person could become popular under these conditions. So this strange decision was made.
"Novaya gazeta" political commentator Sergei Mulin: This completely fits in with the concept the president mentioned during his [October 2] press conference -- namely, that our country will have a free election with two candidates. Only he didn't mention they would be the Kremlin's two candidates. I think it doesn't much matter to the president which of these two candidates becomes his successor. What is important is what position he [Putin] will hold and how much he will be able to control things. Today marks the de facto official start of the election campaign for president of Russia.

SUBSCRIBE
For news and analysis on Russia by e-mail,
subscribe to "RFE/RL Russia Report."