In exchange for agreeing to close and disable its main nuclear facility, North Korea will get 1 million tons of aid from the five powers that negotiated the February 12 deal in Beijing.
But some analysts believe the diplomatic provisions of that agreement are more important to the North Korean leadership than the massive aid commitment.
The old saying "eaten bread is soon forgotten" could well apply in this case. After the aid is consumed, North Korea would still be a poor and isolated country. And it would have been seen as giving up the only thing that brought it world attention, namely its nuclear weapons program.
What Pyongyang Desires
Xu Guangyu is an analyst with the China Arms Control and Disarmament Association. As quoted by Reuters, he says the ultimate aim of the North is not be to nuclear armed, but to be recognized as legitimate in the world, and particularly to have firm security and economic ties with the United States.
The February 12 agreement contains provisions for a start in this direction, with the removal of North Korea from Washington's list of state sponsors of terrorism. It also provides for Pyongyang to hold talks with the United States and Japan on normalization of relations.
But without firm commitments on military security from its arch-critic Washington, Pyongyang may secretly maintain elements of its nuclear program, says Christian Lemiere of the British strategic information publisher Jane's.
"There has to be a healthy amount of skepticism towards the current agreement, given the history of agreements with North Korea, particularly since North Korea still maintains that [possession of] a nuclear weapon is its ultimate guarantee of security, in the absence of any [other] security guarantee from the United States," Lemiere says. "Hence it seems probable at the moment that North Korea could well continue to pursue a [covert] nuclear program, even while signing up to this agreement."
Effects Of Deal
The February 12 agreement covers the "up-front" Yongbyon nuclear facility, with its plutonium-reprocessing plant, and other sites, and stipulates that inspectors of the International Atomic Energy Agency (IAEA) will have access to those sites.
But Lemiere notes that, for instance, there are no provisions banning uranium enrichment. Nor are the North's missile-delivery vehicles affected. The North's increasing skill in rocketry now enables it to direct missiles over much of Asia.
On the positive side, the new accord has already borne fruit in that South and North Korea have already agreed to re-start their severed bilateral talks after a break of seven months.
It will also help to some extent to defuse the growing tensions in North East Asia, centered on China, Japan, North Korea and Taiwan, and the regional pressure for an arms race. Lemiere sees as an encouraging sign that the February 12 accord set up a working group that will develop ideas for a "North East Asia peace and security mechanism."
He says the lack of such a mechanism at present contributes to the build-up and festering of tensions in the region.
"There is no overarching, multilateral forum through which the countries can discuss their various disputes, and which can rule on the disputes, such as exists in South East Asia, with the Association of South East Asian Nations, and the lack of this means that any dispute between the countries has to be resolved bilaterally, and means that if relations are poor, then the dispute will not be resolved at all," Lemiere says.
Plan As A Model
Further afield, U.S. officials have said that the Korean deal could serve as a model for solving the nuclear crisis between Iran and the international community.
Secretary of State Condoleezza Rice raised that possibility in remarks to journalists at the State Department.
"Why shouldn't it be seen as a message to Iran that the international community is able to bring together its resources, particularly when regionally affected states work together and that the strong diplomacy and the cohesiveness of the five parties in the six-party talks has finally achieved results?" Rice asked.
Tehran has shown the same degree of stubbornness as North Korea in refusing to drop its sensitive nuclear program.
The Proliferation Threat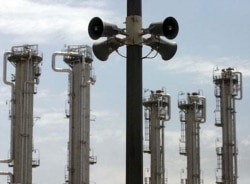 The Arak heavy-water plant in central Iran (Fars)


BENDING THE RULES. Henry Sokolski, executive director of the Nonproliferation Policy Education Center, told an RFE/RL-Radio Free Asia briefing on January 9 that the West is hamstrung in dealing with Iran and North Korea because of the way it has interpreted the international nonproliferation regime to benefit friendly countries like India and Japan.
LISTEN
Listen to the entire briefing (about 90 minutes):

Real Audio
Windows Media
RELATED ARTICLES
Iran, North Korea Present Proliferation Challenges
Tehran Watches As North Korea Tests Global Resolve
Rogue Nuclear Programs Threaten New Arms Race
Why Shouldn't Pyongyang Join Nuclear Club?