State television said Khamenei lashed out at critics who say the nuclear drive could cost Iran too much, saying the country's huge oil and gas reserves "would not last forever."
"Nuclear energy is the future and destiny of the country," Khamenei said, according to a Reuters report that quoted state television.
Iran has four days remaining until a United Nations Security Council deadline runs out to halt its uranium-enrichment program or face possible sanctions.
Enriched uranium can be used for civilian nuclear fuel, but if it is enriched to a higher degree, it can also be used for weapons.
U.S. officials have repeatedly accused Iran of secretly trying to develop nuclear weapons, and the International Atomic Energy Agency (IAEA) has criticized Tehran for obfuscation and said it has not seen convincing evidence to persuade them that Iran's nuclear program is solely peaceful.
(AFP, dpa)
Nuclear Power's Resurgence
Nuclear Power's Resurgence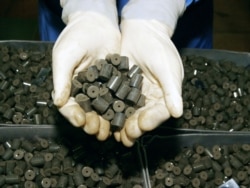 Nuclear-fuel pellets being produced in Kazakhstan (TASS)

LOOKING FOR ALTERNATIVES. Despite warnings from scientists, the world seems unable to stem its insatiable appetite for fossil fuels, which are producing the greenhouse gases blamed for global warming. And emissions are set to rise dramatically in the next few years. Is it time for the environmental movement to drop its opposition to nuclear power? (more)
RELATED ARTICLES
IAE Report Urges Governments To Embrace Nuclear Power
Russia's Nuclear Ambitions Heating Up
Moscow Seeks To Reignite Nuclear Power Industry
France Chosen To Host Experimental Fusion Reactor Project
China/India: Emerging Giants Look To Nuclear Power


Reports from an RFE/RL conference on energy-security issues.