The emphasis on staying committed comes as Britain this week announced major withdrawals of troops from Iraq and some other countries also reassessed their positions.
"[Australian] Prime Minister [John] Howard and the nation he serves have never wavered in the war on terror," Cheney said. "The United States appreciates it, and the whole world respects him for it."
Cheney said Iraq was a part of the war against Islamic terrorists who want to "establish a caliphate covering a region from Spain across North Africa across the Middle East and South Asia all the way around Indonesia."
"We are determined to prevail in Iraq because we understand the consequences of failure," Cheney said. "If our coalition withdrew before Iraqis could defend themselves, radical factions would battle for dominance of the country. The violence would likely spread throughout the country and be difficult to contain"
Howard said in a radio interview that his country would stand firm with the United States.
He announced on February 19 that Australia would send up to 70 more military instructors to Iraq and may deploy more troops in Afghanistan. Australia currently has about 1,450 troops in Iraq.
Elections Looming
Meanwhile, Howard is increasingly criticized at home for the country's involvement in Iraq. He faces an election this year and is under increasing pressure to pull out troops. There have been protests in Australia over Cheney's visit.
The BBC cites an opinion poll published several days ago finding that more than two-thirds of Australians want the government to announce a date for withdrawing troops.
Changes In The Coalition
Meanwhile, several countries this week announced they are reducing their troops or leaving Iraq.
British Prime Minister Tony Blair said British troop numbers would drop from 7,100 to 5,500 and possibly to 5,000 by late summer.
"The British forces that remain in Iraq will have the following tasks: training and support to Iraqi forces, securing the Iraq-Iran border, securing supply routes, and above all, the ability to conduct operations against extremist groups and be there in support of the Iraqi Army when called upon," Blair said.
Blair's announcement came as Denmark announced it would withdraw its 460-strong contingent from southern Iraq by August and replace them with 55 soldiers manning four helicopters.
Iraqi officials have welcomed the moves, saying Iraqis themselves are ready to take greater responsibility for the country's security.
There are some 132,000 U.S. troops in Iraq accounting for more than 90 percent of the coalition force.
The United States is sending 21,500 additional troops to Iraq to help quell violence in Baghdad and in western Al-Anbar Governorate.
In addition, Lithuanian President Valdas Adamkus said today he would feel ashamed if his country recalled its troops from Iraq without first consulting with coalition partners.
Adamkus' comments in an interview published today came just days after Defense Minister Juozas Olekas on February 21 said Lithuania might follow the lead of Britain and Denmark and pull out of Iraq.
Some 50 Lithuanian troops currently serve in Iraq under Danish command.
The Proliferation Threat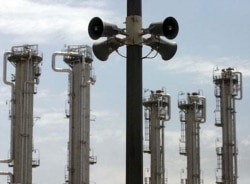 The Arak heavy-water plant in central Iran (Fars)


BENDING THE RULES. Henry Sokolski, executive director of the Nonproliferation Policy Education Center, told an RFE/RL-Radio Free Asia briefing on January 9 that the West is hamstrung in dealing with Iran and North Korea because of the way it has interpreted the international nonproliferation regime to benefit friendly countries like India and Japan.
LISTEN
Listen to the entire briefing (about 90 minutes):

Real Audio
Windows Media
RELATED ARTICLES
Iran, North Korea Present Proliferation Challenges
Tehran Watches As North Korea Tests Global Resolve
Rogue Nuclear Programs Threaten New Arms Race
Why Shouldn't Pyongyang Join Nuclear Club?