UN Nuclear Chief To Visit North Korea
Muhammad el-Baradei (file photo) (epa) February 23, 2007 -- The head of the United Nations nuclear watchdog, Muhammad el-Baradei, says he will visit North Korea after receiving an invitation from the government there to discuss the freeze of North Korean nuclear facilities.
El-Baradei said a letter he received from Pyongyang expressed a desire "to go back to being a member" of the International Atomic Energy Agency.
On February 13, North Korea reached a deal at six-party talks to disable its main nuclear complex in return for fuel oil.
(compiled from agency reports)
Nuclear Power's Resurgence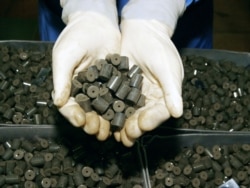 Nuclear-fuel pellets being produced in Kazakhstan (TASS)

LOOKING FOR ALTERNATIVES. Despite warnings from scientists, the world seems unable to stem its insatiable appetite for fossil fuels, which are producing the greenhouse gases blamed for global warming. And emissions are set to rise dramatically in the next few years. Is it time for the environmental movement to drop its opposition to nuclear power? (more)
RELATED ARTICLES
IAE Report Urges Governments To Embrace Nuclear Power
Russia's Nuclear Ambitions Heating Up
Moscow Seeks To Reignite Nuclear Power Industry
France Chosen To Host Experimental Fusion Reactor Project
China/India: Emerging Giants Look To Nuclear Power


Reports from an RFE/RL conference on energy-security issues.