China Rejects U.S. Criticism Of Military Buildup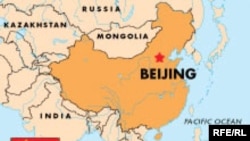 (RFE/RL) February 27, 2007 -- China today dismissed U.S. criticism of its military buildup, saying the country is an important force for world peace.
Foreign Ministry spokesman Qin Gang told reporters that China "adheres to the road of peaceful development."
Qin noted Beijing's role in helping to reach agreement with North Korea on its nuclear ambitions at six-party talks earlier this month.
U.S. Vice President Dick Cheney raised concerns about China's military buildup last week and criticized a recent antisatellite test.
(Reuters)