Aleksei Kanurin, an activist from Russia's Movement Against Illegal Immigration, has recently inaugurated a campaign called "Lukashenka-2008" and has launched a website to promote the idea.
Kanurin said in an interview published on the website that Lukashenka has not been consulted about the campaign.
"We do not need [such a consultation], our task is to create the situation in which people, including Alyaksandr Ryhoravich [Lukashenka], will have a choice," Kanurin added.
Presidential Ambitions
Asked how Lukashenka, who does not have Russian citizenship, could be allowed to run in the 2008 presidential election in Russia, Kanurin said it is a "technical issue."
"Representatives of this movement have not yet contacted the president's press office to talk about their initiative or their priorities and goals. That is why I personally do not have a firm opinion about this initiative," Lukashenka's spokesman, Pavel Lohki, told Belapan on February 27.
In the 1990s, there was speculation in the Belarusian and Russian media that Lukashenka harbored ambitions to be the head of a proposed Russia-Belarus union state.
Lukashenka, who has been president since 1994, recently told Reuters that, health permitting, he has no intention of abandoning politics.
That has prompted a new wave of speculation on whether the 53-year-old president will run for a fourth term in Belarus's 2011 presidential election.
Strained Relations
Lukashenka is well known in Russia and is admired by some Kremlin opponents for what they see as his success in keeping Belarus's economy stable in the years following the break-up of the Soviet Union.
Relations between Russia and Belarus have deteriorated in recent months after a row over energy payments. The row resulted in an oil pipeline to the EU being shut down for a few days at the beginning of New Year.
Russia has more than doubled the price Belarus pays for gas and has imposed sizable duty on crude-oil supplies to Belarus in 2007.
Lukashenka has since made a number of comments in the Western press about increasing ties with Europe. EU officials have insisted that the Belarus needs to engage in political and economic reforms before the union will open a dialogue with Minsk.
Under the Russian Constitution, President Vladimir Putin is barred from running for a third term in office. He has suggested that he will back a successor as the election draws near.
The two current frontrunners are seen as Sergei Ivanov and Dmitry Medvedev, both first deputy prime ministers. Some analysts have spoken about the possibility of another candidate, favored by Putin, emerging closer to the vote.
Whichever candidate gets Putin's support is likely to win because of the Russian president's widespread popularity and the Kremlin's control over much of the media.

Russia And Belarus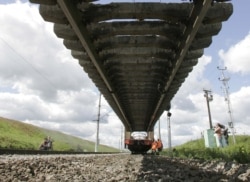 The main Moscow-Minsk railway line(Tass)

TO MERGE OR NOT TO MERGE: For over a decade, Moscow and Minsk have been working on a project to form a single state, the Russia-Belarus Union. However, every time the two countries seem on the verge of making progress, one or the other steps back, leaving the entire effort in doubt.
RELATED ARTICLES
Putin, Lukashenka Press Ahead With Unification
Has Putin Promised Lukashenka Fair Weather?
Tensions Remain In Putin-Lukashenka Talks
ARCHIVE
RFE/RL's
coverage of Belarus
. RFE/RL's
coverage of Russia
.