Reports Say Iran's President To Visit Saudi Arabia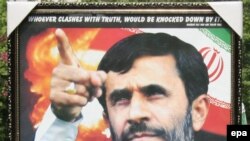 A Pakistani Shi'a holds a portrait of the Iranian president in a July 2006 demonstration (epa) March 1, 2007 -- Reports say Iran's President Mahmud Ahmadinejad will travel to Saudi Arabia on March 3 for talks on the regional situation with Saudi leaders.
The visit would come at a time of political crisis in Lebanon and continued sectarian violence in Iraq.
Recent reports have suggested that Sunni-led Saudi Arabia and other states, including the United States, are eager to limit the regional influence of the Shi'ite-led government in Tehran, which appears determined to carve out a greater regional role in the Middle East.
Ahmadinejad is currently on a state visit to Sudan.
(Radio Farda, Reuters, AFP)