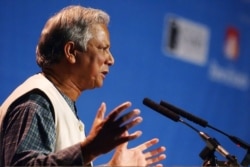 Nobel Peace Prize laureate Muhammad Yunus (epa file photo)


FOR AS LITTLE AS $9. Microcredit is the practice of giving very small loans to poor people who are considered too much of a risk for traditional bank loans. These people often do not have collateral -- things like a cow or house to secure their loan -- or even a job. Despite this, microcredit institutions will lend them small amounts of money at a low interest rate.
The average microloan-repayment rate is higher than the repayment rate for traditional lending. As an example, FINCA International -- which establishes its own small banks in villages -- boasts a repayment rate of 97 percent.
Microloans have proven such an effective way to lift people out of poverty that the Economic and Social Council of the United Nations proclaimed 2005 to be the International Year of Microcredit.
In 2006, the Nobel Peace Prize was awarded to a pioneer in the field: Bangladeshi economist Muhammad Yunus and his Grameen Bank was awarded the prestigious prize for creating major social change in Bangladeshi villages, with loans as small as $9.
SUBSCRIBE
For a regular review of civil-society developments throughout RFE/RL's broadcast region,
subscribe to "RFE/RL (Un)Civil Societies."