That gives rise to much speculation about whether the U.S. will ultimately strike Iran. But, for now, U.S. strategy remains centered on diplomacy.
"We hope that they [Iranians] take that pathway of negotiation," U.S. State Department spokesman Sean McCormack told reporters in Washington on February 26. "There is an offer out on the table. Secretary [of State Condoleezza] Rice has reiterated that over the past couple of days in some very strong statements that she has made. But we are equally committed to sending the message to the Iranian government, [that] should they choose not to proceed down that pathway, then there will be consequences, and those consequences will be diplomatic isolation from the rest of the world."
Analysts say Washington's mixed messages -- stressing diplomacy while reserving "all options" -- is not accidental but strategic.
He was restating Washington's strategy toward Tehran as the Iran nuclear impasse reached a new highpoint with the expiry of the UN's February 21 deadline for Iran to stop uranium enrichment. Tehran ignored that demand.
'All Options'?
But not everyone in the administration has been stressing diplomacy. U.S. Vice President Dick Cheney reminded Iran on February 24 that "all options" remain open should Iran continue to reject the UN's demands.
"We've worked with the European community and through the United Nations to put in place a set of policies to persuade the Iranians to give up their aspirations and to resolve the matter peacefully, that's still our preference," Cheney told journalists during a trip to Australia on February 24. "But I've also made the point, the president has made the point that all options are still on the table."
Although Cheney did not specifically discuss military strikes, his remarks were widely interpreted in the media amid as indicating the standoff could escalate into a conflict.
Analysts say Washington's mixed messages -- stressing diplomacy while reserving "all options" -- is not accidental but strategic. By hinting at the possibility of military action, Washington underlines the seriousness of its concerns.
The purpose may be to increase the pressure on Iran and to convince Washington's European allies that they need to join in tougher diplomatic steps now to make Iran back down.
Europe Moving Slowly
James Phillips, a foreign policy expert at the Heritage Foundation in Washington, says European states share Washington's concerns about Iran's nuclear activities and want to solve the stalemate peacefully. But Europe does not move as rapidly as Washington might want.
"I think in a sense that the Europeans see the EU-3 [Britain, France, and Germany] initiative with Iran as a way to restrain the U.S. more than Iran, by staving off a U.S. military effort," Phillips says. "But unfortunately, the Europeans have not lived up to their own rhetoric on Iran. They have declared an Iranian nuclear weapon to be beyond the pale, but then they don't follow through with major significant economic sanctions to support that position."
The EU-3 initiative is an offer to Iran to give up uranium enrichment in exchange for trade and other incentives.
The EU-3 all have substantial trade ties with Tehran, and that gives them influence with Iran that Washington does not have.
But Washington, which has no ties with Tehran, would like the Europeans to make their offer impossible to refuse, and one way to do that might be to warn they could cut back trade relations if Iran remains defiant.
Analysts say Europe remains far from issuing such warnings. But the EU states are gradually adopting a tougher line toward Iran, something Washington welcomes and encourages.
Engagement Or Isolation?
"A few years ago, you would find very few people assuming that any point we would find the European Union or the EU-3 actually advocating sanctioning Iran in the UN Security Council," says Thomas Valasek, a policy expert at the London-based Center for European Reform. "And yet we have gotten to precisely that point. The European position has certainly hardened in the course of negotiations with Iran and, I think, largely as a result of not seeing tangible results coming out of the negotiations."
Still, Valasek says, there remain fundamental differences in how European capitals and Washington regard Iran.
"There is a limit to how far Europe will go in tightening the screws and it is in a far, far different place from where Washington is currently," he says. "I really do not see -- beyond the sort of targeted narrow sanctions that you have seen coming out of the UN Security Council resolution [number 1737, passed on December 23], which of course the EU-3 have all endorsed. Beyond that I don't really see much more room for further tightening."
According to Valasek, Europe's "limit" is set by both economic considerations -- bilateral sanctions also hurt the states that impose them -- and strategic ones. He says the EU believes engagement -- which comes through trade -- is more persuasive than isolation.
The question now is how far Washington can bring the EU-3 toward a harder stance on Iran as the five permanent UN Security Council members plus Germany try to forge a new resolution.
The U.S. State Department said in a statement on March 1 that all parties are making "progress" toward imposing further multilateral sanctions against Iran.
The sanctions under discussion are reported to include travel bans on Iranian officials who are associated with nuclear and missile programs.
Afraid Of Sanctions?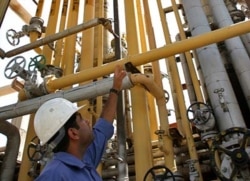 Comprehensive sanctions could further slow development in Iran's strategic oil and gas sectors (Fars)
WHAT DOES TEHRAN REALLY THINK? On August 22, Radio Farda correspondent Fatemeh Aman spoke with Alex Vatanka, Eurasia editor for Jane's Information Group, by telephone from Alexandria, Virginia. Vatanka discussed the possible impact that comprehensive sanctions could have for Iran.
Radio Farda: Some Iranian authorities are trying to create the impression that they aren't concerned about the possibility of international sanctions against it. They emphasize that what Iran has achieved so far has happened despite the sanctions already in place against it. Are they really not afraid of sanctions?
Vatanka: I think that what the Iranians are trying to do is to continue to play this balancing act. On the one hand, they are trying to say, "Look, we have done without you for 27 years; we can continue." On the other hand, if you look at every other major Iranian overture toward the U.S., obviously what they are hoping to do is remove those sanctions. It is the sanctions that have been the biggest obstacle to a genuine expansion in the Iranian economy. It is the sanctions and U.S. policies vis-a-vis Iran that have, for instance, kept Iran from joining the World Bank. It is sanctions and so on that have made the Iranian oil industry have such a tough time in bringing investment into the strategic oil and gas sectors. People like [former Iranian President Ali Akbar Hashemi-]Rafsanjani back in the mid 1990s even kept certain fields untouched because the idea was that U.S. companies should have those once the sanctions were lifted.
I think sanctions are quite important to the Iranians, but at the same time what they are trying to say is, "Don't assume that we are going to fall off our chair just because you mentioned the sanctions card." It is part of a kind diplomatic chess game going on by Tehran. But remember if we look and listen to Iranian reformists, this is being openly debated inside Iran. The question that is being asked of [President Mahmud Ahmadinejad and his entourage] is, "What is the ultimate objective?" Is it just Islamic independence? Is it just the ability to enrich uranium? The debate in Iran by the reformists -- and I think a lot of people would sympathize with this -- is, "What are we being sanctioned for exactly and what policies do you have to make sure that those sanctions don't hit us harder than we have already been hit?"
Remember, the big issue here is this: Iran has been sanctioned by the U.S. Iran has never faced comprehensive United Nations sanctions. The Iranian people have never suffered on a scale that the Iraqi people, for instance, suffered because of such sanctions. So it is kind of disingenuous of these senior leaders to pretend that Iran has already gone through comprehensive sanctions. Iran has not. And it will be totally different set of circumstances that will have a totally different impact on Iranian society and the economy, should the UN impose comprehensive sanctions on the country.


THE COMPLETE PICTURE: RFE/RL's complete coverage of controversy surrounding Iran's nuclear program.
CHRONOLOGY
An
annotated timeline
of Iran's nuclear program.