Bishop Diomid, from the far eastern region of Chukotka, posted a letter on the Internet on March 1 criticizing the church for excessive openness to dialogue with other faiths.
It also criticized the church for supporting democracy, globalization, and President Vladimir Putin's "anti-people policies."
Nikolai Mitrokhin, a religious historian specializing in the Russian Orthodox Church, told RFE/RL the letter recalls a battle in the late 1990s between Patriarch Aleksy II and a group of nationalist church officials. Mitrokhin said the church co-opted some of the rebels and banished others.
"Such actions were very common among bishops between 1997 and 2001," Mitrokhin said. "They simply escaped the attention of the secular media, but whole dioceses, dozens of monasteries, hundreds of priests signed similar letters to the Holy Synod. The way that story ended was that some of the leaders of such rebellions became part of the church's ruling authority while others were banned from service."
Metropolitan Kiril, the church's top spokesman, called Diomid's letter a provocation, AP reported. Kiril said a group of unidentified people "in the shadows" were responsible for the letter.
(with material from AP)
The Russian Orthodox Church
The Russian Orthodox Church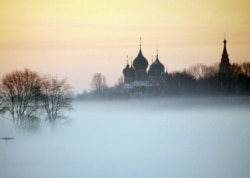 An Orthodox church in the Russian city of Yaroslavl (TASS file photo)

CHURCH AND STATE: The Russian Orthodox Church is not only Russia's major religious confession, but also a powerful force in the political and social life of the country. President Vladimir Putin and other leading figures are conspicuous adherents and frequently meet with senior members of the Church hierarchy. Increasingly in recent years the Church has sought to play a larger role in determining Russia's domestic and foreign policies. In April, the Church hosted a major conference devoted to the theme of Russia's role in the 21st-century world....(more)
RELATED ARTICLES
Orthodox Church Discusses Morality And Human Rights
Russian Church Blames Hate Crimes On Amorality
Orthodox And Catholics -- Heading Toward Reconciliation?
Rights Groups Say Country Intolerant To Minority Religions
Orthodox Church States Its Case For More Involvement In Foreign, Domestic Policies

WEB SPECIAL: A thematic webpage devoted to issues of religious tolerance in RFE/RL's broadcast region and around the globe