Major Powers Fail To Settle Differences On Iran Resolution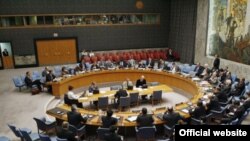 The UN Security Council (official site) March 4, 2007 -- Major powers have failed to settle all their differences over a second UN sanctions resolution against Iran for its nuclear work.
However, the U.S. State Department said they remain committed to passing one soon.

The State Department statement was issued after the five permanent members of the UN Security Council and Germany held a conference call to discuss a new UN Security Council resolution against Iran.
(Reuters, AFP)