Former Georgian President To Be Reburied In Tbilisi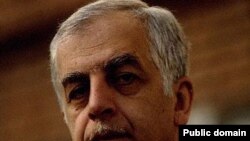 Zviad Gamsakhurdia (undated file photo) (Public domain) March 5, 2007 -- The Tbilisi mayor's office has said the body of Zviad Gamsakhurdia, Georgia's first post-Soviet president, will be buried ceremoniously in the Georgian capital on March 31, his birthday.
Russian officials announced on March 3 they found what appears to be Gamsakhurdia's remains in Chechnya. The announcement on the burial was made on March 4.
Gamsakhurdia fled to Chechnya after being overthrown in a popular uprising in January 1992.
He later returned to Georgia to lead an unsuccessful rebellion. He died under mysterious circumstances in 1993.
Gamsakhurdia's widow, Manana, said he committed suicide after being surrounded by troops loyal to his rival -- former Georgian President Eduard Shevardnadze. Georgian officials say Gamsakhurdia's own supporters shot him after an argument.
Recently, Gamsakhurdia's relatives have alleged that he was murdered.
Russian officials tracked down Gamsakhurdia's remains at the request of his son, Tsotne.
(AFP)