In a keynote speech to this year's session of the congress, Prime Minister Wen Jiabao set out his priorities, which include slowing environmental damage caused by rapid industrial growth, while at the same time spreading the economic benefits of that growth more widely through society.
Problems Of Growth
Wen said there can no longer be a "blind pursuit of growth" in the economy. He reminded delegates that projected growth for the current year is 8 percent, a figure designed to promote stable expansion. He said steps are also being taken to control the massive in-flow of foreign investment and to ease China's huge foreign trade surplus.
"To promote building a new socialist countryside, we must focus on
developing the rural economy and increasing farmers' incomes."
Obliquely referring to the growing gap between rich and poor in China, Wen set out plans to help the rural poor, who have been increasingly showing their discontent in demonstrations and violent incidents.
"To promote building a new socialist countryside, we must focus on developing the rural economy and increasing farmers' incomes," he said. "We must insist on stabilizing and improving the basic system or institutions in the countryside, continue to tailor measures to suit local conditions, proceed from reality, respect farmers' wishes, and protect their interests."
Environmental Concerns
The damage to the environment that has accompanied two decades of ultrarapid economic growth can no longer be disregarded. This is particularly true as China comes under increasing pressure to join international efforts to cut greenhouse-gas emissions.
Wen said old, polluting, heavy-industry facilities and power stations will be closed down, and that the government will use market forces -- pricing and taxes -- to promote energy saving and environmental protection.
In his speech, Wen also confirmed a major increase of 17.8 percent in defense spending for the year, and took a swipe at pervasive corruption in the bureaucracy.
"In some government offices and among a small number of their employees, there are problems of bureaucratism, formalism, and isolation from the people, neglect or dereliction of duty, and even abuse of power and corruption," Wen said. "The root causes of these problems lie in institutional deficiencies and poor supervision."
Lack Of Follow-Through
The government's program was presented with confidence, but as any politician knows, there is often a difference between setting policies and achieving them.
On the environment, China failed last year to meet the emission-control levels it set. The gap between rural and urban incomes continued to widen, and the level of corruption was illustrated by the sacking last year of Shanghai Communist Party chief Chen Liangyu, who was even a member of the country's ruling politburo.
Alexander Neill, a senior China analyst with the Royal United Services Institute in London, says central policies may often be diluted or distorted when given to officials at the provincial or local level.
"Often at the provincial level, specific policies get mired in corruption scandals, or there is a disjoint between the reality of what is going on at the provincial level and what the central planners are saying," Neil observes.
Regional and local officials often have close links to business interests in their area, and favor the demands of the wealthier businesses over the complaints of farmers worried at their loss of land or pollution from factories.
Preview Of Leadership Change
Neill says that the parliamentary session this year takes on a certain importance because Chinese leaders are using it as a showcase to present policies that will feature at the 17th Party Congress, scheduled to be held in the autumn, which Neill says is "viewed as the defining moment when the next generation -- the so-called fifth generation -- of leaders will be anointed, and they will be scheduled to take power in 2012."
Neill says the various factions within the Communist Party are already jockeying to secure their influence in the new leadership.
This internal political maneuvering tends to emphasize the remoteness of the party and the government from ordinary Chinese people. The delegates to the parliament are appointed by the Communist Party without public participation.
And news reports say that thousands of police are on duty to prevent crowds from gathering at Tiananmen Square, the site of the parliament, and police are also preventing people from reaching the area with petitions they want to personally give to the parliament. Many of these petitions traditionally seek redress for grievances against provincial or local officials.
Global Climate Change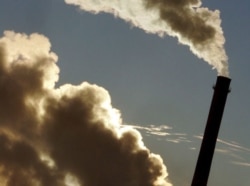 View a photo gallery summarizing some key findings of the Stern report on the economic costs of global warming (epa)

THE STERN REPORT: In October, former World Bank chief economist Sir Nicholas Stern issued a 700-page report on the economic impact of global warming. The report, which was commissioned by the British government, estimates that climate change could cost between 5 and 20 percent of global GDP by the end of the century....(more)
RELATED ARTICLES
Siberia's Once Frozen Tundra Is Melting
Blair Highlights Global-Warming Concerns
Scientists Argue About Need For Urgent Action
ARCHIVE
RFE/RL's
coverage of the environment
.