But the Louvre has simply done what many other museums already have: raised needed funds by trading on their famous names and collections.
Many of the artworks that fill Paris' famous Louvre Museum are priceless, but the name of the museum apparently carries a pricetag of $525 million.
That's how much the government of Abu Dhabi, the capital of the United Arab Emirates, has just committed to pay the government of France for the right for 30 years to call a museum it is building on its Persian Gulf coast "The Louvre Abu Dhabi." Abu Dhabi officials struck a similar sort of deal with New York's Guggenheim Museum in 2006.
The two museums are to be part of a lavish $27 billion development being built on an island in the Persian Gulf named "Saadiyat," Arabic for "Isle of Happiness." Abu Dhabi -- the oil-rich capital of the seven-member United Arab Emirates -- has ambitious plans to create what it is calling an "upscale cultural district" on the island, with museums, art galleries, and a concert hall. There will also be indoor ski slopes, an underwater hotel, a theme park, golf courses, and an exclusive housing development.
While the Guggenheim Museum long ago expanded beyond its original New York location -- the Guggenheim Bilbao, in Spain, and the Guggenheim Berlin are both "enormously successful," a spokeswoman told RFE/RL -- this is the first time the Louvre has allowed creation of a satellite institution overseas.
The Backlash
Not surprisingly, a chorus of critics has raised its voice to protest what it says is a vulgar business deal that sacrifices one of France's most treasured icons in exchange for cold, hard cash.
The Louvre has been part of the Paris landscape since the late 12th century. From its humble beginnings as a simple chateau, today it is a sprawling palace that houses many of the world's most important art works and archeological discoveries.
"France sold the name of the Louvre like one might sell the name of a shoe store or a store for ready-to-wear clothes."
An online petition against the Abu Dhabi deal has been posted on a French website and has attracted more than 4,000 signatures, including many from art experts and historians, curators, and archeologists. The petition declares, "Our museums are not for sale."
Philippe Regnier, the editor of the Paris-based "Journal Des Arts," thinks the deal to sell the Louvre's name crosses a line that museums should never cross -- one that separates the world of art education and appreciation from the world of commerce and profit.
"The only really troubling thing in this project is that Abu Dhabi was determined to acquire a [desirable] name -- in this case that of the Louvre, the name of the most prestigious museum in the world -- and France sold the name of the Louvre like one might sell the name of a shoe store, or a store for ready-to-wear clothes. In other words, like a brand name," Regnier says. "And with that, you get into a whole new view [of museums] that is no longer simply artistic but is also very much commercial."
A Museum's Mission
Many of the same critics who oppose the Abu Dhabi deal also opposed an agreement the Louvre made in 2006 to lend hundreds of artworks to the High Museum of Art in Atlanta, Georgia. Under that three-year agreement (2006-09), the Atlanta museum is paying the Louvre $6.4 million, which is being used to restore the Louvre's 18th-century decorative-arts galleries.
This kind of art-for-cash agreement saddens Regnier, who has a purist's view of art museums: They do not exist to make money, he believes, but to allow the public a chance to appreciate great art.
"Here we are really looking at a revolution in the museum world," Regnier says. "Works of art used to be loaned for, and paintings used to be used for, scientific purposes [such as educating the public] and not in exchange for money. Today we are getting into a new logic, a business logic, where a museum is considered like a business with assets, where the paintings are riches that can be invested to obtain a maximum financial return."
That logic has taken hold in the museum world, and more and more Western institutions seem to be cutting deals for financial reward. London's British Museum and the Victoria & Albert Museum have signed agreements with museums in China; the Rodin Museum in Paris is reportedly planning to open a branch in Brazil soon; and the Pompidou museum, also in Paris, is set to open a small outpost in the Chinese city of Shanghai.
Twin Pressures
What's driving these profitable partnerships? Andrew McClellan, who directs the department of museum studies at Boston's Tufts University and has written books on the Louvre and the public's relationship with art, says it is two things: rising museum costs and a sharp decline in public funding.
He says the Louvre's deal with Abu Dhabi is "the model of the future," and calls critics who sneer at the increasing commercialism of museums unrealistic.
"I don't think it's a viable approach or attitude, really," McClellan says. "Unless governments are willing to subsidize completely the funding of culture, which would be my preference, then we are only to expect increasingly a form of commercialism entering in to support these institutions."
Both in the United States and Europe, McClellan says, fundraising doesn't produce enough revenue for most museums to pay their staff, operate buildings, run public-education classes, and acquire new works. McClellan says American museums in particular are working to pad their bank accounts so they can operate autonomously and cease having to beg for money from the public and foundations.
New Avenue Of Exchange
Under the agreement, the Abu Dhabi Louvre will be filled with artwork on loan from the Paris Louvre for two years at a time. Other French museums will also be asked to voluntarily lend artworks. For some critics, this is an especially upsetting aspect of the deal. They argue that transporting precious art is risky, and lending out national treasures denies citizens the right to enjoy what belongs to them.
But McClellan says many other people have reached the conclusion that commercial arrangements are good, because they bring about important new opportunities for cultural exchanges.
"[The Louvre deal] raises issues about purpose -- and the idea right now that museums can have a global impact, an impact on global relations, is a remarkable one, the rhetoric you hear consistently around the openings of these [new] museums is that they will foster dialogue between east and west," McClellan says. "And that's become a very important justification for museums I think all over the world. And they're putting that into operation, in effect, by bridging the east and the west through this partnership."
Construction of The Louvre Abu Dhabi is to start later this year. The scheduled opening date is 2012.
Saving Afghanistan's Heritage
Saving Afghanistan's Heritage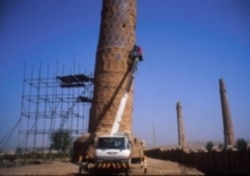 A UNESCO team working to stabilize Herat minarets in 2003 (UNESCO)

THE MINARETS OF HERAT: In Afghanistan's leafy western city of Herat, a two-lane road slices between the city's five remaining 15th-century minarets. Every truck, car, bus, motorcycle, and horse-drawn carriage that passes by sends vibrations coursing through the delicate structures.
In particular, the Fifth Minaret -- all 55 meters of it -- seems ready to collapse into a dusty heap of bricks and colored tiles at any moment. A large crack near its base makes drivers speed up just a little as they pass by....(more)



Click on the image to view an audio slideshow of this story by RFE/RL correspondent Grant Podelco.



RELATED ARTICLES
Afghanistan Protects Storied Bactrian Treasure
Archeologist Hunts For Third Bamiyan Buddha
Musicians Struggling To Revive Classical Heritage After Taliban
ARCHIVE
To view RFE/RL's complete coverage of Afghanistan,
click here
.

SUBSCRIBE
For weekly news and analysis on Afghanistan by e-mail, subscribe to "RFE/RL Afghanistan Report."