Billions Of Rubles Needed To Secure Russian Museums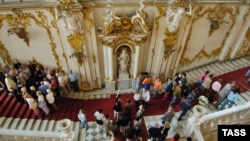 Some of the crowds that throng the Hermitage each day (ITAR-TASS) August 17, 2006 -- Russia's culture minister, Mikhail Sokolov, has called on the government to allocate an additional 13 billion rubles ($486 million) to improve security and staff salaries at museums.
He told a cabinet meeting that the recent theft of 221 artworks from Russia's world-famous State Hermitage Museum was "a powerful argument" for modernizing surveillance and security systems in museums across the country.
The son and husband of a former Hermitage curator have been charged in connection with the theft.
(AP, ITAR-TASS)



UPDATED CONSTANTLY: Visit RFE/RL's Russian-language website, featuring news, analysis, features, streaming audio, and more, in Russian, from RFE/RL's Russian Service.
ARCHIVE
RFE/RL's English-language
coverage of Russia
.