More Possible Art Thefts Discovered In Russia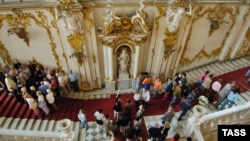 Inside the Hermitage, Russia's best-known museum (ITAR-TASS) August 8, 2006 -- A large number of drawings by the celebrated Russian architect Yakov Chernikov have gone missing from Russia's state archive in Moscow.
Rosokhrankultura, the federal cultural heritage protection agency, says the drawings are worth several million dollars.
The announcement comes just over a week after the State Hermitage museum revealed that 221 items worth $5 million had been stolen.
(AP, Interfax)