The announcement by Iranian state television comes as the five permanent members of the Security Council -- the United States, China, France, Britain, and Russia -- plus Germany, are discussing a possible new set of sanctions on Iran.
ISNA quoted spokesman Gholam-Hussein Elham as saying that Ahmadinejad would attend "the probable UN Security Council session which is to be held on Iran's nuclear program issue." He provided no details on when such a meeting might occur.
Foreign Ministry spokesman Mohammad Ali Husseini confirmed the plans at a weekly news conference today, but declined to say what Ahmadinejad would tell the Security Council, dpa reported.
Husseini repeated Tehran's assertion that the Security Council reporting by the International Atomic Energy Agency (IAEA) has "made the whole issue more complicated" and that "negotiations [are only possible] without preconditions."
He also restated Iranian officials' vow to "not retreat from our position and...continue insisting on our nuclear right."
The IAEA's governing body recently decided to freeze or curb 22 of 55 aid projects, in response to Tehran's refusal to halt uranium enrichment as demanded by the Security Council.
Western powers suspect Iran is using its nuclear program as a cover to build nuclear arms, but Tehran says its program is only meant to generate electricity.
The IAEA, the UN nuclear guardian, has criticized Tehran over a lack of disclosure and said it has not been convinced that Iran's nuclear efforts are purely peaceful.
(ISNA, dpa, Reuters, AP)
Nuclear Power's Resurgence
Nuclear Power's Resurgence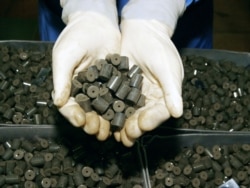 Nuclear-fuel pellets being produced in Kazakhstan (TASS)

LOOKING FOR ALTERNATIVES. Despite warnings from scientists, the world seems unable to stem its insatiable appetite for fossil fuels, which are producing the greenhouse gases blamed for global warming. And emissions are set to rise dramatically in the next few years. Is it time for the environmental movement to drop its opposition to nuclear power? (more)
RELATED ARTICLES
IAE Report Urges Governments To Embrace Nuclear Power
Russia's Nuclear Ambitions Heating Up
Moscow Seeks To Reignite Nuclear Power Industry
France Chosen To Host Experimental Fusion Reactor Project
China/India: Emerging Giants Look To Nuclear Power


Reports from an RFE/RL conference on energy-security issues.