Over the past several weeks, Russian President Vladimir Putin, one of his potential successors, First Deputy Prime Minister Sergei Ivanov, and members of the Russian Security Council have laid out an ambitious new plan for revitalizing the Russian military and revising its military doctrine. While this is not the first time a revival of the Russian military has been proposed, this project has attracted the support and close attention of President Putin himself.
'Modernization Is Not Reform'
Speaking at a security conference in Munich last month, Putin laid out his vision for a strengthened Russian presence in the international arena -- a presence that requires the modernization of the Russian Army, centralization of the defense industry under the more direct control of the Kremlin, and the adoption of a new military doctrine in response to NATO expansion.
A few days earlier, Ivanov gave one of his last speeches as defense minister before the State Duma. In it, he laid out an ambitious program for rearmament of the Russian Army over the next decade. According to Ivanov, in 2007, Russia's defense budget will reach 821 billion rubles ($31.6 billion), a fourfold increase since 2002.
In the last several months, Putin has attended on an almost weekly basis various defense sector events, such as missile launchings, military base inspections, and meetings with visiting defense contractors.
If one adds the funds allotted in the 2007 budget for the security and law-enforcement agencies to the total defense expenditures, total budget spending on defense reaches around $58 billion. While this amount is a pittance compared to U.S. or NATO defense spending, weapon procurement costs are considerably lower on the Russian domestic market.
By 2017, according to Ivanov, Russia will spend 5 trillion rubles ($200 billion) on defense. Fifty percent of this sum will cover the procurement of a new system of intercontinental ballistic missiles and tactical rockets, strategic bombers, state-of-the-art air-defense systems, and advanced tanks.
In addition, by 2009, Russian political and military leaders will make a decision on whether to launch a national program to build new Russian aircraft carriers. Under this plan, about 45 percent of Russia's current stock of military hardware will be renewed by 2015. The aim of the program is to restore strategic parity with the West. Presenting his plan to the Duma, Ivanov warned that he prefers to talk "about modernization, but not reform of the army." "Because the word 'reform' gives us an allergic reaction," he explained..
Perhaps, Ivanov is hedging his bets for the future: because of the length of his projections, maybe he is not planning to leave the political scene any time soon.
Cabinet Reshuffle
A week after Ivanov's presentation, Putin reorganized his cabinet. He promoted his long-time loyalist Ivanov to first deputy prime minister. Ivanov will now preside over the most advanced military and civil industries. The latter includes the military-industrial complex, the communications, space, and nuclear sectors, along with innovative scientific and technological firms.
One of Ivanov's first moves in his new role was to announce the revitalization of Glonass, the Russian global navigation satellite system. This project is designed to provide Russian troops with modern communications for 21st century conflicts. Glonass, on which Moscow spent over $220 million in 2006 and 2007, will comprise a system of 24 satellites and will be ready by 2009.
In addition to promoting Ivanov, Putin named Anatoly Serdyukov, the former head of the Federal Tax Service, in his place. The appointment of Serdyukov, a man with no military or diplomatic experience, has bewildered Western defense officials, who are privately wondering how they will be able to discuss strategic issues with a person of his background.
At the same time, Russian military officials have reportedly felt humiliated to be placed under the command of a man who once ran a furniture company in St. Petersburg.
However, Serdyukov's appointment might be better understood as the expansion of Putin's own portfolio than as the promotion of Serdyukov. With the appointment of such a neophyte, Putin has in fact assumed some of the functions of defense minister himself -- at least as far as strategic and political decisions are concerned.
This personnel shift coincides with Putin's increasing attention to the military. In the last several months, Putin has attended on an almost weekly basis various defense sector events, such as missile launchings, military base inspections, and meetings with visiting defense contractors.
And this attention is showing no signs of abating. Late last month, Putin signed a decree creating the United Aviation Corporation, which combines all national civilian and military aircraft companies, including MiG, Sukhoi, Tupolev, and Ilyushin. First Deputy Prime Minister Ivanov will chair the new corporation. Aviation experts believe that Ivanov is trying to save the floundering civilian aircraft sector by putting it together with advanced military aircraft building.
A similar merger plan was announced for Russia's shipbuilding industry. According to the plan, Russia will combine all of its 160 shipyards and shipbuilding facilities into three big holding companies, the biggest of which will be the United Industrial Company, chaired by Ivanov. Military ship producers currently make up 77 percent of the Russian shipbuilding sector.
Revision Of Military Doctrine
At the same time, the Russian Security Council is retooling the country's military doctrine to match the efforts of Putin and Ivanov to revitalize the country's armed forces. The council announced early this month that Russia's military doctrine, which was adopted in 1993 and amended in 2000, will also be revised in order to reflect the "strengthening of military blocs, especially NATO" as well as changes in world geopolitical forces and demographic trends.
Makhmut Gareev, a leading Russian military theoretician and president of the Military Sciences Academy, believes that the amended doctrine will reassess the character of the threats to Russian national security and adopt many tougher attitudes toward the West.
Gareev, who leads an expert group that is revising amendments to the doctrine, told "Krasnaya zvezda" on January 26 that the new document will also drop the stipulation about Moscow's right for a preemptive nuclear strike in order to prevent large-scale aggression. Russia's insistence on the right to a first strike had been based on the assumption that the Russian Army would not be able to effectively defend Russia against NATO troops.
Different Type Of War
However, Russian military officials now believe that war in the 21st century will probably not be conducted with conventional forces. Gareev explained that Russia instead wants to prepare its armed forces for guerilla-type warfare. The revised doctrine will also drop as "politically unenforceable" a basic provision proclaiming Russia's opposition to the expansion of military blocs, a veiled reference to NATO. Instead, the Russian military proposes to incorporate a statement about how "U.S. efforts to push Russia away from the post-Soviet space [poses] a threat to Russia's national security."
But probably the most important revision is the rewording of a current provision declaring that in view of the economic and social challenges facing Russia, the development of its armed forces has to be limited by national economic capacity.
The new version will declare that the Russian economy should provide for the army's growth at any cost. Objections have already been raised. Andrei Neshchadin, deputy director of the Social-Conservative Club, a think tank connected to the pro-Putin Unified Russia party, said that oil revenues may not be sufficient to finance the defense modernization program.
He notes that while Russia produces a large amount of oil relative to other countries, it is also a much larger country with a much larger population to take care of: "We produce only 3 tons of oil per capita, while Norway produces 20." In other words, Russia, despite its abundant energy reserves, will never be wealthy enough to modernize the army on petrodollars alone.
Neshchadin, however, provided Moscow policymakers with a way to manage this challenge. He noted that "in order to make the population ready for such a sacrifice, state propaganda would need to publicize external threats such as the [U.S.] deployment of a ballistic missile defense system in Poland and the Czech Republic or the prospect of uncontrolled immigration from [Russia's southern and eastern borders]."
Russia And The West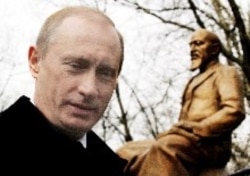 (epa)
COOPERATION, CONFLICT, CONFRONTATION: Relations between Russia and the West are notoriously volatile. "To see the kind of relationship that presidents Bush and Putin have developed and to see Russia firmly anchored in the West, that's really a dream of 300 years, not just of the post-Cold War era," then-national security adviser Condoleezza Rice said in May 2002.
But observers have increasingly called into question the extent of the shared values between Russia and the West, particularly on issues relating to the transformations going on in other former Soviet countries.
RELATED ARTICLES
Silent Diplomacy Versus Public Criticism
Analysts Say New Arms Race Unlikely
Moscow 'Unhappy' With Outcome Of CFE Conference
Moscow And Washington Spar Over WTO Membership
Russia Gears Up To Improve Its Image Abroad
Experts Urge U.S. To Rethink Relations With Russia
U.S. Official Says Russian NGO Law Part Of Antidemocratic Trend
ARCHIVE
To view an archive of RFE/RL's coverage of Russia, click here; to view an archive of RFE/RL's coverage of U.S.-Russian relations, click here.

SUBSCRIBE
For news and analysis on Russia by e-mail, subscribe to "RFE/RL Russia Report."