The species is endemic to Central Asia, and previous reintroductions and other conservation efforts in the region have proven successful, paving the way for this latest move.
But environmentalists are still warning that the Bukhara deer's habitat -- which includes Kazakhstan, Tajikistan, Turkmenistan, and Uzbekistan -- needs better protection.
Conservationists from the WWF and the Altyn Emel National Park in southeastern Kazakhstan spent two years preparing for the transfer. Finally, two bucks and seven does were reintroduced this winter.
Never Far From Home
Vyacheslav Khudiakov, who heads the wild-animals department of Almaty's regional forestry and hunting office, says the animals came from the nearby Qarachingyl game reserve.
"Nine deer were brought from [Qarachingyl] to Altyn Emel National Park, located on the right bank of the Ili River," Khudiakov says. "There is a special [national] program on the protection of disappearing species running from 2005 to 2007. Within the framework of this program, we are going to bring this species along the Ili River."
The nine animals will be kept in a holding pen for at least a year to allow them to adapt to their new environment and reproduce. Then some animals will be set free.
Pereladova says she is optimistic about the development of the Bukhara deer population in the 500,000-square-kilometer park. She says it offers good protection from poachers and logging activities.
Spreading The Burden
Olga Pereladova, the director of WWF's Central Asia Program in Moscow, says two-thirds of the $50,000 price tag for the project was financed by Kazakhstan; the WWF paid for the rest.
Altyn Emel National Park contributed with money generated by eco-tourism.
The WWF has been working since 1999 to save the species in close cooperation with local communities across the region. Pereladova says that has helped reverse a trend.
"We started the project when the species was really under threat of extinction -- no more than [350] Bukhara deer [remained]," she says. "Seven years later, we have more than 1,000 animals -- three times the number. So it's a very well-developing species when it is well-protected and when people around understand that it is not just an object of poaching but their national pride -- this deer -- which is unique in the world."
Before the reintroduction in Altyn Emel park, the WWF helped reintroduce Bukhara deer at two other sites along the Zarafshan and Syrdarya rivers: Uzbekistan's Zarafshan nature reserve and Kazakhstan's Turkestan sanctuary.
Tugai Dweller
The animal is ashy gray, with yellowish highlights and a grayish-white rump patch.
It lives in Central Asia's riparian forests, which are characterized by thickets of trees and grassy clearings interspersed with wetlands.
These forests, locally known as "tugai," are located on the floodplains of major rivers like the Amudarya, Syrdarya, Zerafshan, and the Ili.
But overgrazing, agriculture, and illegal logging have contributed significantly to the destruction of the tugai.
Pereladova says the problem is particularly acute along the Amudarya River in Uzbekistan and Turkmenistan, where many forest areas were cleared mainly for cotton cultivation.
"The lost of habitat is a very serious threat," Pereladova says. "Along the Amudarya, we [don't have] more than 10 percent of riparian forests [left]. And these strips [of remaining forest] are very narrow."
But Pereladova says riparian forests are recovering along the Syrdarya, which lies primarily in Kazakhstan, where steppe land is being used for agriculture rather than land occupied by forests.
A number of reserves have been established to protect tugai remnants across the region.
Seeking More Protection
But Pereladova says the establishment of a network of strict protected areas, ecological corridors, and buffer zones across all five Central Asian states can help riparian forests recover. And that could help the Bukhara deer develop across the region.
"We hope that if the [existing] groups are developing well, then they will extend on their own," Pereladova says. "What we want to do is to create a network of protected areas and ecologic corridors through which they can migrate on their own from the core areas where we have introduced them."
The WWF Econet project was included in a framework convention signed by the five Central Asian governments in late 2006 to unite efforts to save the environment.
The project proposes the creation of an "ecological net" on about 40 percent of the region's territory -- up from the current 5 percent.
Pereladova says its implementation is likely to take 20 years.
(Merkhat Sharipzhanov, the director of RFE/RL's Kazakh Service, contributed to this report.)
Bohemian Yurt Maker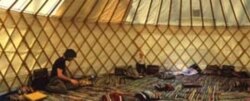 CENTRAL EUROPE MEETS CENTRAL ASIA: Few urbanites in Bishkek or Ulan-Bator would trade their warm apartments to live in a yurt. But in Europe, some have become bored with city life and are seeking a bohemian lifestyle. One Czech artisan is carving out a niche in a growing market with his own renditions of the traditional Central Asian dwelling.


WATCH
View a short RFE/RL video presentation (about 90 seconds).
Real Video