Russia: Environmentalists Oppose Sochi's Olympic Bid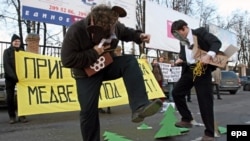 Environmental activists protesting Sochi's bid to host 2014 Winter Games (epa) MOSCOW, February 15, 2007 (RFE/RL) -- Brown bears, deer, chamois, otters and the Caucasus wild cat could disappear from a World Heritage Site in southern Russia if construction work to boost an Olympic bid isn't stopped, activists have warned.
Greenpeace and the WWF wildlife-protection group are leading a campaign to stop plans to build downhill ski slopes and winter sports complexes on territory inside Sochi National Park and the Caucasus Nature Reserve. The reserve forms part of an area designated a World Heritage Site by UNESCO.
Developers are hoping their construction plans will help boost Sochi's bid to host the 2014 Winter Olympics.
Members of the International Olympic Committee (IOC) are flying to the Black Sea city on February 19 to begin an inspection of the proposed sites.
Mixed Reception
Russian President Vladimir Putin, who has a summer residence in Sochi and personally supports to the bid, will be there to welcome them.
But Mikhail Kreindlin at Greenpeace Russia says the impact of the construction on the area would be disastrous.
"We're not opposed in principle to holding the Olympics in Sochi," Kreindlin said. "But hosting them at the cost of destroying unique forests and animals, particularly in such fragile conservation areas which are protected by international organizations -- we consider that to be totally unacceptable."
Improving The Odds
Sochi has been short-listed, alongside Pyeongchang in South Korea and Salzburg in Austria, for the right to host the 2014 Winter Games.
Changes in the law last year gave the Economic Development and Trade Ministry, which is overseeing Russia's Olympic bid, control of the mountains and forests surrounding Sochi.
The ministry says that because Sochi trails behind the other two hopefuls in terms of facilities, they are keen to develop the area ahead of the IOC's decision.
But Kreindlin says the real reason for the development is more ominous.
"Sadly, the Olympic bid is being used as a way for construction companies simply to get their hands on the most valuable land," he said. "For example, the last time the Russian government looked at this issue, which was in January, there was no mention made of the Olympic bid. They simply said that the land could be used for social infrastructure, whereas it was patently obvious that it would be snapped up by elite resorts and golf clubs, which have nothing to do with the Olympics."
Last-Minute Protests
Greenpeace has filed a suit against the government to prevent the construction. The Supreme Court is scheduled to hear the suit early next month.
At the same time, WWF has written to Putin warning that rare wildlife habitat in the area is being destroyed.
"In Sochi there are plenty of other areas, not on the territory of national parks, where these structures could be built," said Igor Chestin, WWF's director in Russia. "It goes without saying that all the areas should be scrutinized by ecologists, but there are certainly other areas where the building work can be done."
The Sochi 2014 Olympic bid team insists that all construction work is being carried out within the parameters of Russian law.
Andrei Braginsky, a spokesman for the team, said that the government was investing $100 million in Sochi's environment and that it was addressing concerns about the ecological impact the games might have.
"It's very important for us to enter into a dialogue with ecological organizations," Braginsky said. "As the Olympic bid team for the 2014 Winter Games, we meet and talk to these organizations all the time so that we can keep informed about all their observations of our plans. For me, these meetings are very important."
Too Little, Too Late?
Igor Chestin said he was due to meet the ministers of Natural Resources and Economic Development and Trade, as well as a representative of Putin this week, ahead of the IOC's trip to Sochi:
But for both WWF and Greenpeace, the meetings have been too few and have come too late.
"It would have been good to have this meeting [last] October or November so that the government and we had a coordinated position on this matter today," Chestin said. "But we will see how the meeting will go."
The International Olympic Committee will announce the winner of the competition to host the 2014 Winter Games in Guatemala City at the beginning of July.

The Post-Soviet Environment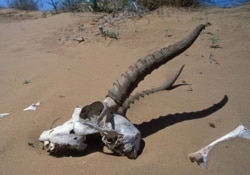 The skull of a male saiga antelope in Kalmykia. Saiga numbers have collapsed disastrously over the last decade. (shpilenok.com)
THE FRAGILE PLANET:
Since the collapse of the Soviet Union, old environmental disasters have come to light and new ones have emerged. War, poverty, and weak central-government control have led to serious environmental problems from Eastern Europe to the Russian Far East. RFE/RL has provided extensive coverage of these important issues and of efforts to cope with them.
RELATED ARTICLES
Saiga Antelope's Saga Attracts New Allies
Project To Reverse Aral Sea Damage Making Progress
Iraqi Marshes Show Signs Of Strong Recovery
Deforestation Rampant In South And Central Asia
Environmentalist Says BTC Pipeline Could Be 'Death Of Caspian'
Scientists Raise Alarm As Man-Made Deserts Spread
Nature Waits For Cross-Border Sanctuaries To Catch On
Central Asian Vllagers Encouraged To Protect Snow Leopards
Environmentalists Raise Concerns About Russian Ecology Policy
ARCHIVE
RFE/RL coverage of environmental issues
.